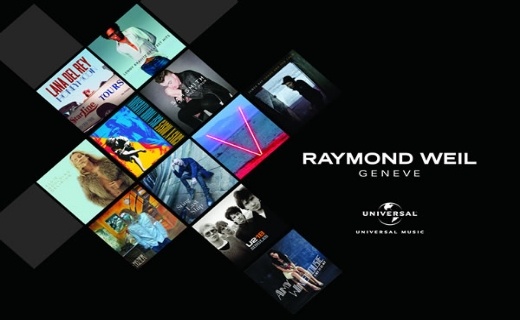 Luxury Swiss watchmaker Raymond Weil once again is using its passion for music as the creative centrepiece of its collaboration with Universal Music Group and the BRIT Awards. Music has always been an essential ingredient for Raymond Weil, and has been involved within the music industry for over three decades. The Swiss watchmaker is renowned for coining the phrase "Raymond Weil composes its timepieces the way musicians compose their chef d'oeuvres."
This unique collaboration with UMG will be offering consumers a bespoke digital music streaming service. By aligning the brand so closely to the music industry in every shape and form - from exciting marketing campaigns to music sponsorship, this brand understands how the #PowerOfMusic can drive brand affinity with its consumers.
RW partners with UMG to reward its consumers with music
Raymond Weil is joining forces with Universal Music Group to launch a bespoke digital music service, supporting the brand's strong DNA link with the music industry.
The music service available on Raymond Weil's Website will coincide with Baselworld, the annual watch and jewelry show on March 17, followed by a multi-channel campaign which will unveil the digital music service progressively throughout March/April, and then other cross-promotional efforts will follow. The campaign will unveil the Raymond Weil's brand which centers on inspiration from the music world, making Universal Music a strategic partner to help consumers "dive into its musical universe."
To celebrate its 40th anniversary, Raymond Weil will host a custom radio station on its website, which has been created and customised by Universal Music. All listeners of Raymond Weil (RW) Radio will be able to pick from 40 tracks.
In addition to the RW Radio, consumers who register on the Raymond Weil website will gain access to exclusive advert-free radio playlists with a selection of over hundreds of songs. For Raymond Weil watch owners, full and unlimited access to additional playlists, editorial content and news will be available. They will also have VIP access to exclusive content, including extended concert footage from milestone shows.
The brand is using music as the focal point to reward its consumers in exchange for personal data, in the attempt to get to know its consumers better. This type of data collection enables the company to target offers, benefits and rewards based on consumer preferences, and in turn will allow Raymond Weil to refine its strategy to execute the most successful music marketing campaign.
"We are thrilled to partner with Universal Music, the world's leading music company, and to associate our brand's name to such an iconic actor of the industry," said Raymond Weil CEO Elie Bernheim in a brand statement. "Raymond Weil has always been strongly committed to promote music of all kinds. With this exclusive entertainment service, we offer our clients access to the best music artists and an indisputable added value."
Making music the hero of this integrated marketing campaign is a clever way to touch the hearts of consumers through their ears. Using music to create authentic connection with its consumers is what Raymond Weil has been doing successfully for decades now. Rewarding its consumers with music and other exclusive content gives consumers added product value. What more, authentic music experiences are seen to encourage brand loyalty in the long run.
>> Read our article on How Tech, Music & Marketing all form part of MasterCard & Gwen Stefani's Integrated Campaign <<
Raymond Weil builds high brand equity with BRIT Awards music sponsorship
Raymond Weil h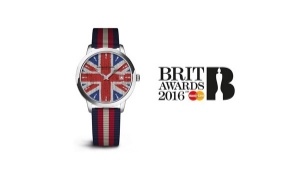 as been sponsoring the BRIT Music awards for 11 years now as the Official Watch & Timing Partner for UK's most prestigious music awards ceremony.
The Geneva-based brand is honoring the 40th anniversary of punk music, with a unique punk-inspired timepiece worn to the awards ceremony by some of the world's most recognized and talented faces in the music industry, including; Best Male Solo Artist, James Bay, Radio One DJ, Huw Stephens, Craig David and comedian Alan Carr.
The watch has been inspired by the anti-establishment movement of the 1970s. This model in the brand's Toccata collection has a Union Jack dial design that recalls the emblem used by punk legends, such as The Clash and the Sex Pistols. This BRIT Awards 2016 special edition watch will be showcased to nominees, presenters and performers backstage at the show. A limited number of just 70 pieces will be available to purchase in the UK, priced at £730.
Leveraging the influence of famous music artists associated with the prestigious BRIT awards, Raymond Weil is creating a Halo Effect, a marketing phenomenon where consumers are given the perception of high value by association with reputable icons. As seen with this phenomenon, consumers are most likely to purchase a product from a brand that has a good reputation in the marketplace, particularly when a new product is introduced into the line. Through its strong partnership with BRIT Awards, Raymond Weil has built high brand equity, which in turn allowed consumers to favor its watches over competitors in the marketplace.
"We are very pleased to continue our partnership with the Classic BRIT Awards," said Elie Bernheim, Raymond Weil's director. "For not only their association with the arts but for the unique way the awards ceremony celebrates both core and crossover classical music.
"This year, the Classic BRIT Awards is even more special to us due to our partnership with the venue for the ceremony, The Royal Albert Hall," added Elie. "Coming from a true classical music loving family we can appreciate the overall experience of the event and cannot wait to share it with our customers."
Click to tweet
Raymon Weil has also confirmed on their website that the brand will launch a series of activities, including a nationwide advertising campaign to communicate its continued partnership with the BRIT Awards throughout the UK's largest cities including; London, Manchester, Liverpool and Glasgow. This will be supported by Raymond Weil's roster of musical ambassadors and friends, including 2015 BRIT winner Jess Glynne, James Bay, Sigma, Labrinth and classical violinist Nicola Benedetti.
>> Read our article Fiat's marketing strategy includes music sponsorship at the AMA's <<
Because of its emotive effect, Raymond Weil has been successfully leveraging music as an effective means to drive purchase. We've seen how music is the centerpiece for the brand's DNA. If you log onto its website, you will be presented with an array of partnerships, campaigns and collaborations all paying homage to the music industry. From a partnership with internationally renowned classical violinist Nicola Benedetti in campaign called "Toccata", to marking the hundred year birth anniversary of legend Frank Sinatra, this company is fully commited to use music marketing to drive business impact.
In this campaign, music is used to reward loyal consumers and brand advocates, knowing that turning music fans into brand loving fans is a clever way to drive business advantage. Music reaches people on a deeply primitive level, evoking strong emotional effect, and using it from a marketing to a design perspective is what this brand does best.
If you found value or insight from this post, please consider sharing it on Twitter or Linkedin. Thanks for reading!
Copyright Property Pictures: moodiereport.com, masterjewellers.co.uk