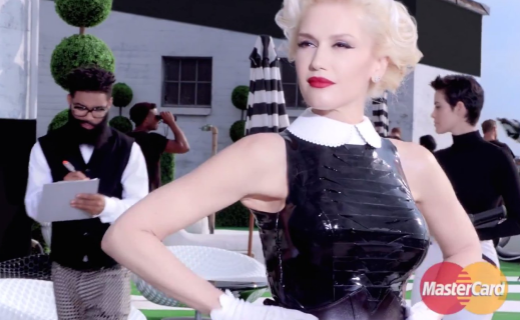 It goes without saying that an effective way into a consumers heart is through their ears!! And Gwen Stefani and MasterCard are doing just that with their new collaboration, they've joined forces in an interactive and engaging marketing campaign in the next series of "Priceless Surprises".
The credit card company, have been enlisting the help of popular singers such as Justin Timberlake in previous ad campaigns to their current muse, Grammy award winner Gwen Stefani. The concept is simple, the consumer needs to use their MasterCard with the Apple Pay function in order to be "surprised" with prizes such as concert tickets, to golf experiences, to meeting the Rock Goddess herself! With digital marketing being at the core of this very flashy ad, #PricelessSurprises is the campaign's hashtag which is being used to drive social media engagement for this fun and rewarding marketing strategy.
MasterCard, Apple & Gwen Stefani run together to raise awareness for their individual core products
It's a collaboration made in music heaven! It all started with a very fun and engaging 30 second ad, in which Gwen Stefani launches gifts at consumers in differing situations via a t-shirt launcher, from handbags to hilariously even launching herself to one very enthusiastic consumer.
This campaign also raises awareness for 'Apple Pay' the new payment system, which has not been fully supported by Apple financially yet in terms of paid - advertisement. So this ad is actually shining a light on the Apple feature with cardholders using the iPhone 6 and Apple Pay to checkout for purchases. Gwen Stefani's latest track "Spark The Fire" also features in the bubbly ad.
Three "Brand" key features MasterCard, Gwen Stefani and Apple all make a cameo in this quirky ad and cross paths in a very clever cross-marketing campaign. These partnerships allow brands to address strategic business objectives, by raising awareness for their individual core products and ultimately increasing sales.
Click to tweet
The Queen of Rock Gwen Stefani's collaboration with MasterCard has her performing in an intimate concert at Orpheum in Los Angeles on Saturday, February 7th, her first solo concert in 6 years. The show is part of MasterCard's "Priceless Surprises" campaign.
"Gwen Stefani's personal brand, consumer appeal and sheer energy are what make her an ideal partner to serve as an ambassador for our Priceless Surprises platform," Raja Rajamannar, MasterCard's chief marketing officer, said in a statement.
Stefani said she wants to meet and surprise her devoted fan base: "I'm excited to be part of a collaboration that offers me the opportunity to connect and engage with fans through amazing surprises when they least expect it."
Gwen Stefani uses Twitter to reward her fans and promote #PricelessSurprises
What do you get when you merge alliances like Gwen Stefani, MasterCard, Twitter and throw in audience participation? You get an exciting and interactive scavenger hunt! Hints on where to locate these treasures in the (Los Angeles) area will be given by the platinum songstress herself via Twitter. It's an exclusive scavenger hunt open only to MasterCard holders, once fans find their treasures they will be able to claim their tickets into the shows and gift cards.
Once fans have deciphered these tweets and locate #PricelessSurprises such as tickets to Gwen's exclusive performance and even a chance to attend the Grammys, they need only to present their MasterCard to reap these amazing rewards.
#PricelessSurprises are happening all over LA & OC this week! Keep an 👀 on @MasterCard for clues! #FindTheGwenabees http://t.co/z7JaFreIZd

— Gwen Stefani (@gwenstefani) February 2, 2015
Social media has provided another platform for this union which has simultaneously brought together the worlds of tech, music and marketing in a seamless manner. Gwen Stefani utilising her own fan base on Twitter is engaging for her fans and rewards her fans for their loyalty. After all, music fans have always been the most passionate and loyal people in the world who will travel far and beyond to support artists they love. And this campaign is hoping to do just that! Drive loyalty.
Click to tweet
MasterCard's marketing strategy uses music as an engagement platform
MasterCard's Priceless Surprises Campaign is nostalgic in that what they are offering to their card holders is the chance to meet celebrities and have a moment in time captured and remembered forever! Who wouldn't want to be part of a campaign that makes dreams come true? It comes at a time when the world has become so internet and digitally based that seeing a live concert or attending a Grammy's show would seem virtually impossible for most. But not with MasterCard, they are making dreams a reality, and that in itself is a rewarding marketing campaign.
In 2013, Justin Timberlake put pen to paper in a collaboration with MasterCard which saw the campaign run over two years with surprises and a supported tour as well as support for his new CD's. The fan-focused ad campaign has seen JT surprise fans all over the world, one lucky fan in Ontario Canada was pleasantly surprised when Timberlake showed up and mini-putt course to play a round of golf.
Recently we, at Tuned Global, were involved in a campaign with pop-singer Katy Perry & MasterCard. Fans were treated to receiving a free download of 'Teenage Dream', thanks to the campaign with MasterCard's "Priceless Music". That campaign saw card holders being treated to an exclusive and intimate gig by the firework singer. Once at the private concert fans were given the chance to enter a photo booth competition which could see them win signed Katy Perry gifts.
This collaboration between MasterCard and musicians is reportedly including support of their upcoming album and tour. In short it allows bands to expand their music base beyond their own platform and utilising the customers of MasterCard, increasing sales for their music and tours. And whats in it for MasterCard I hear you say? well its simple, in short their main objective is to win over new cardholders and to increase the brands awareness with consumers.
This unique marketing collaboration between MasterCard and Gwen Stefani has utilised consumers passions such as music which becomes all about the consumer, driving meaningful experiences by delivering unique and unexpected experiences for fans. The campaign has given consumers a channel to re-engage with both brand's 'MasterCard' and 'Gwen Stefani' and drives sales by utilising their core product's the credit card and music. To learn more about this campaign head to pricelesssurprises.com.
Do you think you could incorporate such an integrated marketing strategy to increase sales and drive engagement in a fun and creative way such as MasterCard? We'd love to hear your thoughts..
Copyright Pictures property: businessinsider.com.au, YouTube.com, Instagram, Twitter