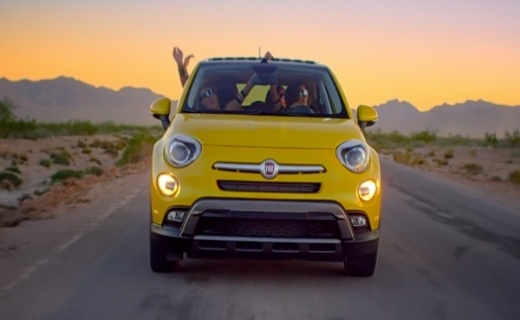 Fiat Chrysler Automobiles has done it again! Not only is the company the official sponsor of the American Music Awards telecast, but it has also figured out a very cool way to incorporate music to differentiate itself from the rest of the automobile trade. The advertising approach is unique and speaks to its targeted consumer on an authentic level . By collaborating with Universal, Sony and Warner record labels, Fiat used music as its advertising hook and as a result, the brand was exposed to a younger mass audience of music fans.
Fiat's CMO Olivier Francois' love for music is the reason that this automobile company has been leveraging music in its marketing strategy for the last five years. Fiat is leveraging the #PowerOfMusic to differentiate and give their brand a personality to appeal to a younger audience.
"Music and the AMAs are part of this moment where you can build or add some relevance to our message, because there's nothing less 'relevant' than a car commercial—for that, our whole marketing investment will be relatively inefficient," Fiat Chrysler CMO Olivier Francois said. "We want to add relevance, connected tissue—glue that will do something for you, so that even if you're not in the car market today, you'll watch the commercial."

Fiat Chrysler launches 3 ads during American Music Awards
Partnering with all 3 major music labels, Sony, Universal and Warner, for its latest advertising push has given Fiat an edge over its competitors. Three very cool and fresh custom-made ads that range from 30 to 90 seconds were developed for the AMA's, specifically targeting music fans.
Musicians,
Sofia Reyes
,
Brett Eldredge
and
Ty Dolla $ign
, all made cameos in the commercial, which featured a Fiat 500X, Ram Rebel, Jeep Renegade, Chrysler 200, and Dodge Charger and Challenger in locations across the U.S. These rising stars were specifically chosen to match the vehicle that would best suit their personality. Fiat is certainly using these musicians to speak a language and a culture that connects its brand to music fans.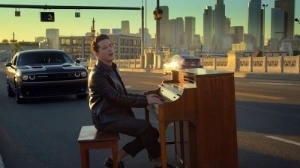 For the 90-second ad, Fiat teamed up with singing sensation Charlie Puth of Atlantic Records with the song "One Call Away". The 60-second ad saw a collection of young musicians namely Skylar Grey, Pia Mia, Tory Lanez and BORNS. Dubbed as "stars of tomorrow", all artists were paired with a Ram 1500, Jeep Wrangler, Dodge Charger and Chrysler 200.
The final 30-second spot was allotted to a capella group Pentatonix from Sony Music Group who performed the song "Sing".
"The use of music in this campaign gives us the opportunity to connect with millennials through a shared passion," Olivier Francois, FCA's global chief marketing officer, said in a statement. "Our strategy to approach each brand like a 'playlist' enables us to reach across genres, allowing us to check two of the most important marketing 'boxes' -- brand building, giving each voice a distinctive persona and relevance to a targeted audience."
History of using music
Fiat Chrysler's music initiatives included high-profile Super Bowl ads featuring Eminem and Bob Dylan, while last year's AMA partnership with Interscope Records included co-promoted spots with Eminem (Dodge), Gwen Stefani (Fiat), Fergie (Chrysler), Phillip Phillips (Ram) and Imagine Dragons (Jeep).
The brilliant logic on how Fiat paired which star to the car that would best fit his or her personality was explained by Marissa Hunter, director-global brand advertising and head of Ram Truck brand advertising.
"Eminem and the Dodge Charger SRT Hellcat: "Guts Over Fear" is a song about being strong and overcoming adversity, so the automaker felt it would be a smart association to link it with its high performance, high-attraction vehicle."
"Gwen Stefani and Fiat 500L: The idea is that the brand's personality, like that of the performer, is "fun young and fashionable," and her Italian heritage made "a perfect match," Ms. Hunter said.
"Fergie and Chrysler 200: The logic was that the Black Eyed Peas singer is young, energetic and stylish, which the automaker felt aligned with the brand's image."
The marketing extravaganza was in full overdrive at last year's AMA's with Chrysler not only running four 30-second custom-made videos for the awards show, but ensuring that a 1965 Chrysler 300 low-rider was onstage during Fergie's performance of "L.A. Love". A collaboration such as this is a win-win for sponsors and musicians alike because of the consistency of the brand's exposure.
Click to tweet
And just as recent as September of this year, Fiat launched a cool and original way to showcase their brand new 500 model with a music show which featured the talented singer-songwriter Ella Eyre. She performed a re-mastered version of "The Emotions" track, "Best Of My Love", whilst the car 'laid down' the opening beats of the song. To add to the grand stage design, she performed on a giant vinyl record measuring 15 metres in diameter. This spectacular car display coupled with a vibrant performance created a memorable and authentic audience experience. This is one of Fiat Chrysler's many powerful and exciting campaigns that is inventive in creating a meaningful connection that consumers can respond to emotively. The marketing initiative is part of the company's The Icon Reloaded campaign, which is how Fiat is leveraging music as part of its new strategic direction.
>> Read our article on American Honda & Woven Digital partner up to connect millennials via rich storytelling <<
Sebastiano Fedrigo, Fiat Professional UK country manager, said: "You don't replace an icon - you embrace it and evolve it. The new Fiat 500 has been truly re-mastered and reloaded and what better way to mark the launch with an impressive and memorable event like tonight's."
The impact of using music for their brand
Fiat leveraging music as part of its new strategic direction is a perfect opportunity to speak to consumers emotively and because its target audience is a youthful one, reaching out through music is a perfect platform to speak to consumers. Fiat has not only created a strong musical content strategy by curating nice songs by new artists, it actually found the right musical connection to add personality to its brand identity by pairing artists to represent its line of vehicles.
Last year, Fiat Chrysler reported that its third quartershowed a 1.1% market share gain, with sales up 45% for Jeep and 25% for Ram in first nine months of the year.
And recently, the company has publicly stated that music videos featuring Fiat Chrysler Automobiles has reached a staggering 3 billion views on YouTube alone. Its U.S. sales is up by 15 perecent in October 2015, marking its 67th consecutive month of year-over-year sales gain. Evidently, using music in their marketing strategy to engage consumers creatively is a successful plan. Pushing the envelope with music is a marketing approach that the company is welcoming with open arms.
>> Read our articles on how Car makers use music to leverage interest in their brand and build loyal relationships <<
What is exciting about a brand like Fiat Chrysler is that it's not afraid to be unique, bold and gutsy. Using music in its marketing ads and participating in a big award night through music sponsorship has given the company a global reach. Through music, the automobile company has explored a creative way of showcasing its new line of vehicles. Matching cars with popular artists and being consistent in its initiatives to add personality to its products has given the company a stronger brand identity that is well-received by its target audience.
If you found value or insight from this post, please consider sharing it on Twitter or Linkedin. Thanks for reading!
Copyright Pictures Property: YouTube.com,