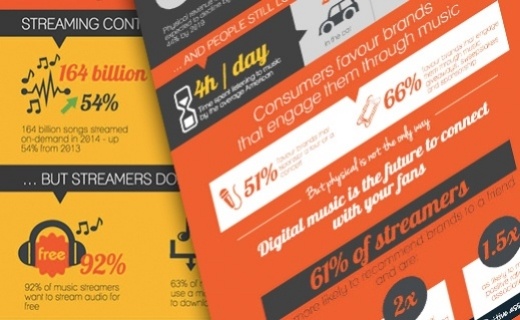 Brands need to consider digital music as a key part of their content marketing strategies, in order to deeply connect with their customers and build loyal relationships by offering positive experiences through music.
Today's marketers are astutely aware of the vast changes in digital music consumption with 67% of music consumers now listening to music online according to the 2014 Nielsen Music Report. While Edison's 'Share of Ear' study said that people spend an average of four hours and five minutes each day consuming audio, meaning music is their top form of entertainment.
"People love music; it evokes peoples' feelings, triggers their memories and is universal. Brands can take advantage of this fact by offering the music that their customers want. They'll benefit from a strong emotional connection and long term relationship with a loyal community," said Con Raso, Managing Director, Tuned Global.
Indeed, Spotify's Music Streaming Brand Impact Study found that 61% of the music streamers were more likely to recommend those brands to a friend, while they were twice as likely to be stronger brand advocates and emotionally connected to the brand. This is a valuable audience for brands which can use music streaming to create that deeper connection back to the consumer.
"A few brands have used music streaming in their marketing campaigns recently, but the majority have been short-term tactical awareness campaigns using mass market music services, rather than incorporating music streaming into their long term customer engagement and brand loyalty strategies," said Con Raso.
According to Nielsen Music 360 2014, 164 billion songs were streamed on-demand on 2014 and demand for streaming is on the rise. The number of streaming users is heading upwards and is expected to grow 192% by 2019, according to MIDiA Research's report. The same report said that 18 to 34 year olds have the highest overall streaming penetration at 47%, while 18 to 24 year olds have the highest streaming level at 41%.
"Consumers favour brands that engage them through music and 2015 is definitively the year for streaming. It's an opportunity for brands to use the 'power of music' as a potent marketing tool to reach their audience, acquire new customers, successfully retain them and reward VIP clients," continued Con Raso.
Finally, MIDiA Research's The streaming Effect report teaches us that consumers prefer not to pay for music and 92% of music streamers want to listen for free. This creates endless unique and creative marketing opportunities for brands by offering free digital music, however most have not realised this key fact yet.
"Digital music should absolutely be a key component in brands' customer engagement strategies. Marketers who do not recognise that music has a major part to play in their content marketing ecosystems are, in my opinion missing the opportunity to make a quantifiable and effective impact on their business," concluded Con Raso.