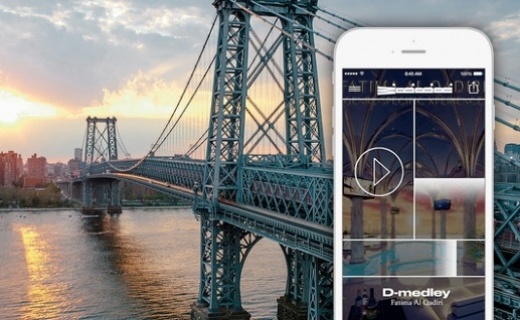 The Brooklyn record label, UNO NYC, released on Wednesday 15th of July a music app that only works on the Williamsburg Bridge. It tailors a new 2 track playlist daily to your exact location on the East River overpass.
The "local's" local station, WBBR is only broadcast on the bridge. The app switches on automatically when you arrive at the bridge and plays fast-paced songs as you move up the bridge and more chilled low tempo tracks as you travel down towards land.
Williamsburg Bridge Radio App, will only play when you are on the bridge and nowhere else. The app is highly location-sensitive and detects your location roughly every second through GPS tracking and a system of beacons. "It knows when you are at the peak of the hill and that is when the chill track will start," said Heather Brodie, a wordsmith at advertising agency Sid Lee, which built the software for record label Uno! It seem's you'll get the most out of the app if you're riding your bike, since the pace of the music attempts to mirror the amount of physical effort you're putting into climbing the bridge.
You're probably wondering why would UNO NYC go to all that effort for such a short ride with a maximum of two songs that can get played? Simple, it's a clever marketing strategy! It's in touch with technology of today and innovative in creating a buzz for the record label to promote its artists, which includes rapper Mykki Blanco, disc jockey Jacques Greene, and experimental producer SFV Acid. "It is a conversation piece to get people to talk about the music," said Sid Lee associate creative director Cecilia Azcarate.
And more than just creating a buzz, it's a gimmick which is intended to differentiate. You need to do something to stand out from the rest, and this does exactly that. It engages conversation and debate and that's what this marketing gimmick has already achieved, water cooler discussion.
This marketing strategy has dared to be different, and created an avenue where they connect with people on an emotional level. The app created by creative agency Sid Lee in collaboration with designer/developer Eric Hu, has achieved a lot of media coverage and attention by being creative.
Have you travelled to NYC and been on the Williamsburg Bridge recently and tested the app? We'd love you to share your experience with us.
Copyright Pictures Property: bkmag.com