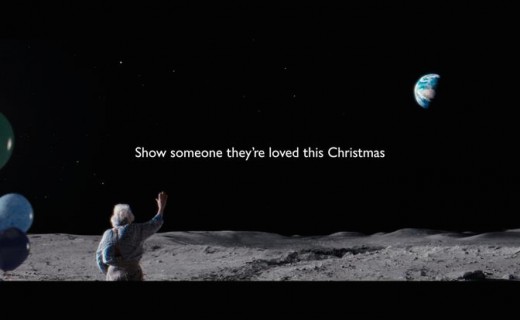 John Lewis, the upmarket chain of department stores throughout Great Britain, has been releasing Christmas cheer via beautiful storytelling since 2007. For two consecutive Christmas seasons, John Lewis created ads that were tugging people's heartstrings, "Monty the Penguin" and "The Bear and the Hare". This year's ad is no exception in eliciting emotions and evoking childhood memories during Christmas time. They are experts at emotional storytelling by using a combination of brand values, strong narrative and of course, the right music.
The latest campaign, entitled "Man on the Moon", takes a distinctly charitable theme this year with the department store collaborating with Age UK to fundraise and launch an educational programme to tie in with the ad, which carries the tagline "Show Someone They're Loved This Christmas"
Man on the Moon's heartwarming message
John Lewis has done it again! This year's marketing bonanza has cost John Lewis a whopping £7m. They have invested heavily in producing this ad to tell a powerful story and stand out from the clutter of the holiday marketplace, particularly when most retail stores focus heavily on communicating discounts and sales.
This powerful ad has another element to it, with the campaign raising awareness for loneliness among the elderly. Hence, the collaboration with Age UK is a fitting one. Proceeds from several of their products will be donated to this charity to ensure that the Christmas cheer is enjoyed by all, even the lonely elderly consumers. A heartfelt message indeed.
"Man on the Moon" is an emotional ad portraying a young girl named Lily, who watches through her telescope an elderly man sitting all alone on the moon. She has several failed attempts at trying to make contact with the man on the moon, but was finally able to do so when she manages to send him a telescope present using balloons. And of course, it arrives just in time for Christmas. He can now look back down on Earth and see Lily and what's happening over there.
Music is a key ingredient to rich storytelling
John Lewis devised a strategy to increase its brand engagement and sales by using digital channels, such as YouTube, as a cost-effective way to reach a broader audience. In just over 4 days, the ad has already been viewed over 11 million times on YouTube alone. All John Lewis' Christmas ads create social media buzz upon release, with social media hashtags used to capture all the trending digital conversations. Their ads have all the right storytelling ingredients when it comes to creating a buzz and they are being promoted as though there is a major blockbuster movie about to be released, with mini trailers, teasers and posters. They tap into people's emotions each and every time and even more so that they release their ads around Christmas time when the emotional heartstrings are at their most sensitive to this type of content.
Their ads always portray positive narrative and it is seen to be an effective way for content to go viral as opposed to creating negative dreary stories.
Music is key in all John Lewis advertisements. In particular, they like to use up and coming artists in the music scene, such as last year's rising star who is now a mega global success, Tom Odell. He sang John Lennon's Real Love in last year's "Monty The Penguin" ad. This year, they've used a downbeat cover version of an Oasis' song entitled "Half The World Away", sung by Norwegian up and comer named Aurora. This is what they do best - they get an older song and up cycle it by using a fresh talent to give the song their own unique spin. In return, it gives their ads a signature consumer recall by reinforcing a song choice to identify with their brand. It's a clever way to connect with consumers by creating rich storytelling through a song.
Just watched the new @johnlewisretail #ManOnTheMoon and I swear there's something in my eye

— Sammy (@SammyAlbon) November 7, 2015
A history of using music to build emotional engagement with consumers
John Lewis doesn't just save its ad magic for the holiday season. Other stand-outs include the 2010 tear-jerker "Woman," and its "Never Knowingly Undersold" spot from 2012 which used split-screen filmmaking technique to tell the story of a romance in the 1920s and present-day.
Click to tweet
In 2011, John Lewis shot a beautiful 90-second ad called "The Long Wait". It featured a little boy counting down the days to Christmas so that he could surprise his parents with a present. The music was of course tailored perfectly to this ad with The Smiths' song "Please Let Me Get What I Want" which was covered by Slow Moving Millie.
Back in September this year, one of their most successful ads premiered which featured a young girl who was dressed as a ballerina, dancing carefree in her home to Elton John's classic "Tiny Dancer." The 90-second spot is nothing short of spectacular. The attention to detail placed on this ad for their financial services on home insurance is clever storytelling. Marketers would agree that soft-selling using strong narration is why these are ads are so effective and brilliant. The song choice for this ad flows seamlessly in time whilst the little girl danced around her home, nudging lamps and valuable vases tumbling to the floor.
Here's the thinking behind it, according to John Lewis' Financial Services Head of Marketing, Margaret Burke: "The advert is heart-warming and features an iconic song but most importantly, it reminds viewers that John Lewis Home Insurance can offer peace of mind, allowing them to enjoy family life — knowing that they have protection in place, they can simply let life happen."
John Lewis have been creating successful emotional ads since 2007, and it looks like they are only getting better and bigger with each passing year. People wait with anticipation for their heartwarming storytelling through visuals and the relevant song choice and delivery. Each ad encapsulates beautiful heartfelt memories by using positive narration through a song to evoke strong emotions and strike at the core of people's inner beings. The #PowerOfMusic has certainly assisted John Lewis in forming an emotional connection with their target audience. With so much competition in the marketplace, advertisers would benefit in using every tool in their shed, especially one as emotive as music to strike at the core and capture its audience.
If you found value or insight from this post, please consider sharing it on Twitter or Linkedin. Thanks for reading!
Copyright pictures property: marketingmagazone.co.uk