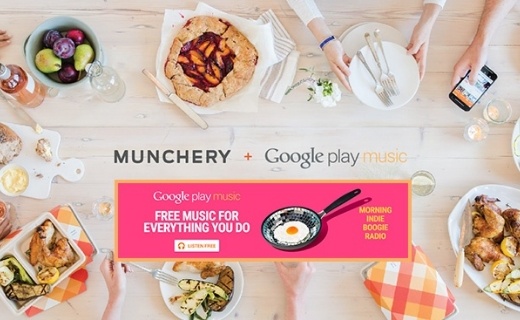 How about a little music on the side with your eggplant parmesan? Sounds pretty cool right? For a limited time only, subscribers to the meal-delivery startup Munchery, could order a dinner and a custom-made soundtrack by Google Play Music. This cool marketing collaboration between Google Play Music and Munchery is a good example of how a brand uses the #PowerOfMusic to create a unique customer experience. The meal-delivery service's chefs have created custom dinners based on Google Play Music's radio stations. And it doesn't stop there. Playlists were also tailored around consumers moods, times of day, and activities.
The offer was available for a short time from August 17- September 11 in New York, Seattle, San Francisco and Los Angeles. The promotion was offered in hoping to create a better experience for their subscribers. "Taste and sound both have a special way of bringing people together, so it felt natural to connect them in one simple, fun experience," said company vice president of food Nicolas Bernadi in a press release. "We want people to be excited about mealtime – everything from our locally sourced ingredients to the mood, soundtrack and environment."
Munchery's chefs cook the entire meal themselves and all you need to do is heat the meal up, which differs from other services such as Blue Apron who deliver ingredients and recipes for you to cook up. The offer from Munchery in pairing food with music is a clever way to further differentiate their services and create a unique experience for their customers.
Click to tweet
We believe that food and music bring people together. We'll bring the food, @GooglePlayMusic will bring the tunes. pic.twitter.com/3R3iJzQpwE

— Munchery (@munchery) September 10, 2015
The pairings of music and food are based on moods, which allows customers to associate feelings with their meals and as such, allows them to develop a brand connection with Munchery. The emotional power associated with music is a huge asset for consumer brands and this is exactly what Munchery is trying to leverage on. Take for example, "Coffee Shop Indie Radio" was based around Munchery's sinful chocolate cake "Classic Rock Summer," which features baby back ribs, BBQ beans, ginger steak, and a maple-candied bacon bun; and "Sunny Patio Vibes," with grilled chicken and broccolini. And "Classic Rock Summer" was based around Chimichurri chicken, baby back ribs and BBQ beans, spicy tuna salad, ginger steak with quinoa and kale, maple candied bacon bun.
The recipe for never-ending summer? #MuncherySF Hawaiian Pork Tacos and @GooglePlay Music's Sun Out, Vibe Out tunes. pic.twitter.com/cPgVZQBJig

— Munchery (@munchery) August 27, 2015
Zena Arnold, head of Americas marketing at Google Play, added: "Turning a great menu into a great moment is all about what you pair with it – the drinks, your friends and especially the music."Google Play Music and Munchery together bring the best food and the best music to make your dining experience perfect."
Google made its assault in June with their free, ad-supported online radio, version of Google Play Music, and is competing head on with the likes of Pandora, Spotify and Apple Music. To raise awareness for these radio stations, Google's strategy to team up with brands such as Munchery and Asos among others has been critical in reaching music fans and giving them engaging and unique experiences.
For Munchery, offering this short-term promotion by adding mood-based curated playlists, gives them a point of difference with other food delivery services. It makes them stand out in a crowd by offering their subscribers something unique by using music as their hook to establish an emotional connection. The social landscape has changed and it's refreshing to see that companies like Munchery are changing their approach on how to secure the attention of customers. In this marketing strategy for Munchery, music, being key was offered to the consumer. Because everybody loves listening to music, it is a powerful tool that evokes a positive response from consumers. Turning great moments into a great menu, bringing the best of food and music to create unique and personalised dining experience... This is a clever marketing campaign that marries the worlds of advertising and music. Bon Appetit!
If you found value or insight from this post, please consider sharing it on Twitter or Linkedin. Thanks for reading!
Copyright Pictures Property: adweek.com