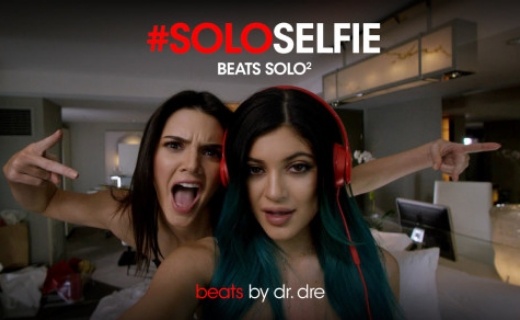 Beats By Dre, have taken that age-old internet phenomenon 'the selfie' to promote their new Solo2 headphones. The campaign has been inspired by the Karen X. Cheng's viral video called "The donut selfie".
Fashion and branding and music collide in Dre's new wireless cans Solo2 campaign by taking advantage of social media trends, recruiting artists, athletes or web celebrities and converting consumers into word-of-mouth marketers to promote the new headphones. The #SoloSelfie campaign involved people to participate by imitating the celebrities and then sharing brand messages socially. The video campaign also uses many iPhones which reminds us that Apple are globally recognised and subliminally reminds us that they do now acquire Beats.
Here are the 4 pillars of the Beat's successful Solo 2 strategy. Though, the execution is clever, in the end given Apple's inclusion we would have expected a more riskier campaign and innovative campaign.
1. Taking its inspiration from the 'The Donut Selfie' viral video
Karen X. Cheng's Donut Selfie is the inspiration behind Beats By Dre #SoloSelfie campaign. Her donut selfie captures the person in a short video dubbed the "new selfie craze".Karen X. Cheng has essentially brought the 'selfie' into a new dimension with her brilliant mini video movie of taking a series of background's to showcase in your selfie.
"We were doing sweeping camera motions around the head trying to make optical illusions. I did one that was from one side of my head to the other - made a donut around my head - and the video started looping and woahhhh that looks cool. Soon enough I was running all around the city trying to get cool shots, playing with slo mo effects and iPhone lens attachments, and this is the result!" Karen X. Cheng.
The buzz her video has created has been enormous with close to a million views on YouTube. It has also spurred a chain of other donut selfie videos - each one trying to outdo the other. Videos of people on vacation in Amsterdam and even people doing double donut-selfies, where the camera goes in one persons head and through the other person, the possibilities are endless.
2. Using 'The Selfie' craze to market and engage with the consumer
It's pretty hard to go by one day without seeing a selfie of your friends or even celebrities posted all over social media these days. It has even become part of our vocabulary now (recognised as an official word by the Oxford Dictionary). Selfie is a great way to interact socially with your friends or fans and it is obvious why so many brands are using this trend to connect with their customers.
In this new ad for Beats people are invited to participate by posting their own 'donut selfie' and then sharing it to Instagram with the hashtag #SoloSelfie. Every week Beats publish 'The best of the week', video built with the customer's creations. The fans are loving the creative challenge and to get a chance of being in a Beats video by doing as their favourite celebrities do. This campaign promotes also the product personality and values, because the Beats Solo2 are "a symbol of individuality as much as they represent a connection shared by millions of people across the globe," says Apple.
The selfie is one of the most popular social trend's over the last 2 years and it doesn't look like the craze is going to dissipate. Actually, it looks to be heading into a new dimension just as Karen X. Cheng took it to a whole new level with a twist.
3. Involving celebrities as influencers to promote new headphones
The first wearable release since Apple took over Beats has come in the form of new wireless colourful cans. Some of the biggest stars on the planet were used to promote the headphones Solo2 such as the Kendall and Kylie Jenner, Nicki Minaj, Big Sean, Usher and even YouTube star Bethany Mota, tennis ace Serena Williams and New York Giants NFL star Victor Cruz. These celebrities are wearing the cool cans whilst snapping selfie's of themselves. You are then invited to do like them and to share your own selfie video across social media.
Individuality being key in representing the new wireless cans is what this Instagram sensation Josh Ostrovsky did. Better known as The Fat Jew, a wild and crazy New Yorker who's video's are outlandish and outrageous, sparking controversy at every turn make him popular beyond anyones wildest imagination. So, it was only fitting that he created his own #SoloSelfie video by attaching a corn kobb on a drill and eating it whilst filming his donut selfie. The Fat Jew has over 2 million followers on Instagram including Snoop Dogg and Katy Perry. His Instagram video of his #SoloSelfie had more than 29,000 likes and over 6,000 comments, affirming his level of popularity. Beats certainly welcomed his crazy take on the campaign selfie by posting his video to their website gallery and acknowledging it as one of the best. Beats are cleverly utilising popular Instagrammer's and Youtuber's in their campaign which can only inject more awareness being raised to the brand Beats and their #SoloSelfie campaign.
4. Releasing the Axwell /\ Ingrosso's new song because music is emotive
Beats feature music in their marketing campaign's in order arouse emotions and elicit a strong connection to the campaign with music. This is not something new but it is one of the necessary elements in a successful campaign. Such as the pounding, foot stomping beat 'Jungle' by X Ambassadors which was used in a World Cup themed campaign or Aloe Blacc's chest thumping 'The Man' which featured in Beats' ads with athletes like Kevin Garnett and Colin Kaepernick striding in slow-motion.
Beats part founder and Interscope Records mogul Jimmy Iovine is the influencer and uses his music connections in deciding what songs will be featured in Beats' ads. "Something New" by, Axwell /\ Ingrosso who are two-thirds of the former electronic supergroup known as Swedish House Mafia features in the #SoloSelfie ad campaign. Jimmy as well as Dre understand the importance that can be placed on selecting a rad track for an advertising campaign such as this. It transports the consumer into another dimension by connecting lyrics and tunes to the ad. By using music in their advert it helps you to connect to the product by evoking emotions and in the case of the marketer it hopes to influence sales subliminally by appealing to our subconsciousness.
Beats has collaborated with many musicians in innovative campaigns emphasizing good sounds. These songs also are catapulted into billboard charts success with the exposure of their songs being featured heavily in these campaigns. Therefore a win-win for musician and brand.
Results
A obviously successful campaign but with a low risk strategy
The campaign has already been viewed more than 10.6 million times since November 26 and has had over 28,000 Facebook & Twitter interactions according to Visible Measures website. Over 9,000 photos and videos have been used with the hashtag #SoloSelfie on Instagram, making this selfie campaign a great success in raising awareness for the new colourful cans Solo2. The wireless cans are also Beats highest selling headphones to date.
But are we surprised? Copy a viral trend, add a bit of social craze, involve dozens of celebrities and a lot of money and go... quite easy when you are associated with everything Apple. The idea is cool, the execution is good but it was a very low risk strategy and not one of their more innovative campaigns seen by the tech savvy heavyweights.
However, in essence Beats' strategy had all the makings of a successful marketing campaign, well-known popular brands, a cool product, audience participation to share awareness, the use of celebrities, a trending craze and music. Strategies which are attractive and allow for consumer participation creates a buzz and can be a success for your marketing campaign.
If you want to get among this cool marketing campaign and are still unsure how to perfect the donut selfie.. do not fear - Beats have released a 'How to" tutorial by Kenan Thompson.
What other innovative marketing trends can you see 'The Selfie" being used for? Or do you think its time for something new to hit the world of digital and social?
Copyright pictures property: 9to5mac.com, YouTube.com