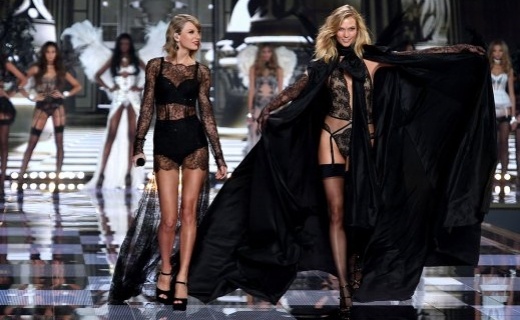 The lingerie fashion house Victoria's Secret uses a musical fashion spectacular in order to promote and market its goods in high-profile settings. The element of music is added to the show to enhance the product and give the consumer a feel good vibe with its musical/fashion extravaganza. The runway event which is predominately filmed in the US brought its show this year to fashion capital London, and is aired each year before christmas.
Using music with prominent stars such as Taylor Swift and Ed Sheeran, the show has propelled the brand into mega success off the catwalk financially is paying some serious dividends to the lingerie house. Victoria's Secret marketing campaign has been an evolving and very clever one, which makes them the number 1 runway fashion show to view each year, people are excited to see who is performing and what wings the Angel's will be fluttering.
Taylor Swift is a coup for Victoria's Secret, while Hozier reach a wider exposure
Typically held in New York City, the show moved across the Atlantic to London for the first time, adding to the hype. The catwalk featured performances by Taylor Swift, Ariana Grande, Ed Sheeran and Hozier. Swift, in particular, was a coup for Victoria's Secret. She belted out her first-ever live performance of "Style," from her new album. It won the night "hands-down," Glamour's Lynsey Eidell declared.
And it seems Victoria's Secret remains devoted to the show. In November, CEO Sharen Turney teased plans for 2015 and said she's proud of how the show's developed over the years.
Many viewers watch the annual show for entertainment, a yearly event to watch with friends. Others are more interested in the clothes themselves, as a different way to look at the catalog, said Ted Marzilli, CEO and global managing director of YouGov BrandIndex.
"It's become a marquee event, a tentpole event," Ted Marzilli told The Huffington Post. "It works for them."
For the artist performing at the show this is another platform in which their music is being listened to. Artists like Hozier who are not as popular as Taylor Swift reach wider exposure for their music and have their songs hit higher levels in the music charts. Ariana Grande's performance was one of the highlights of the night when she performed a spectacular medley of four of her hits that included "Love Me Harder," "Bang Bang," "Break Free" and "Problems"
Victoria's Secret dominates YouTube with Taylor Swift
In addition to their live shows Victoria's Secret also features the 'Angels' on their very own YouTube channel. The brand achieved top success on YouTube last week on the Adweek/VidIQ top branded video chart with a video of a group of the Angels lip syncing to Taylor Swift's Shake It Off. A clever and well thought out marketing move to promote the fashion show thanks to the pop stars song. The mashup was a total success with YouTuber's and topped Adweek's Instagram Video Chart in the weeks leading up to the sensational fashion show. The video clip has boasted more than 27,000 Facebook shares and has had over 4.7 million views, WINNING!!
The YouTube channel in addition to Twitter and Instagram plays a major role in the marketing for Victoria's Secret. Prior to the runway spectacular, the consumer is treated to an array of video's via the Victoria's Secret YouTube channel to meet and greet the actual 'Angels' who will be strutting their stuff on the catwalks. By doing this they are allowing the viewers to get up close and personal with the 'Angels' making them appear less intimidating.
Creating a subliminal ambiance to connect with the audience thanks to the music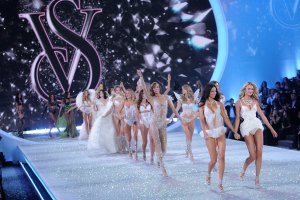 The actual outfits that are worn by the models for the musical extravaganza would never be worn by the ordinary consumer. Let's face it, you would never be strutting around your bedroom with a $2 million dollar'd for each jewelled fantasy bra's and some sensational wings. The marketers of the show are intending to sell lingerie in general. What they are trying to do with their musical fashion show is to create a subliminal ambience that makes the audience and the consumer feel connected when they see these beautiful models dancing to these fantastic performances by Taylor Swift and Ed Sheeran. These pop-stars who have current songs on the radio perform at the catwalk so that the consumer can relate and see that these statuette models also love to dance and be silly!!! Just like us!
Fashion shows are one of the industry's most powerful marketing tools. The shows and the use of music can transport a viewer to a fantastical place, and does that with generating major media hysteria with the use of YouTube videos stimulating hype for the show.
However, spectacular fashion runway shows are nothing new in fashion. Christopher Bailey's creative vision for Burberry has involved harnessing the latest technology to produce fantastical productions with the use of music playing a major part in their shows.
>> Read our article about how Burberry create a brand experience by evoking emotions with the power of music <<
Does Victoria's Secret strategy fashion/musical show pay off?
Victoria's Secret is a $6.7 billion global brand. The leading specialty retailer of lingerie and beauty products, it has 1,600 stores, more than 40 million likes on Facebook and over five million Twitter followers. Their marketing strategy is completely identical from their brand image, and therefore is a seamless integration of their brand and the way in which it's promoted. They're not pretending to be something they're not as some brands try to do.
The show which costs over $20 million dollars and is the most expensive to date is seen in 192 countries, and is seen by 500 million people and is completely unique in the industry. According to Business Insider, Victoria's Secret made $6.68 Billion dollars in sales, which is an indicator that the fashion shows which are getting more expensive must be reaping the company said rewards. The fashion brand's lingerie hasn't been this popular in nearly two years, according to new data from YouGov BrandIndex, a firm that tracks the public's perception of different brands. Victoria's Secret is expected to have a major holiday season in 2014, thanks to its fashionable underwear lines and the success of its glitzy fashion show, industry observers say.
That's more good news for a brand already on a tear. Victoria's Secret has raked in $4.8 billion in sales through the third quarter of this year, up nearly 5 percent from the same period in 2013. Shares of its parent company, L Brands, have climbed nearly 70 percent over the past two years.
In the end things that we can learn from Victoria's Secret Fashion and musical extravaganza is that by connecting music to a brand it engages the consumer and the brand hopes that you will feel it's more attainable and connected emotively as discussed above. It's true, that in addition to this Victoria's Secret use women such as Alessandra Ambrosio and Adriana Lima as brand ambassadors due to them being mums and not being in men's magazines, women can relate to them and don't feel threatened. All these factors make-up a recipe of success. The moment you attach musicians and live singers in conjunction with showcasing their lingerie they've allowed a consumer to feel much more engaged to the whole brand experience.
The The musician hopes to sell more records and be introduced to a different audience and the fashion house hopes that you will feel more attached to the brand and buy their products. Win-Win!!!!
Do you agree, that music can strike at the very core and make you feel more engaged?
Copyright pictures property: ibtimes.co.uk, Youtube.com, linksservice.com