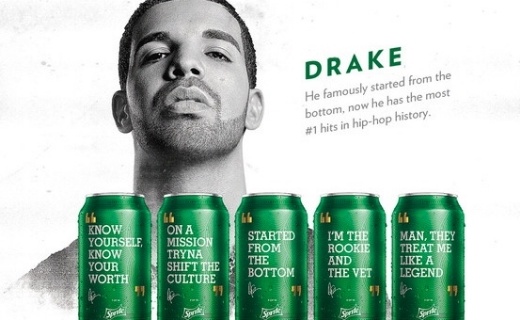 The Coca-Cola Company – owned Sprite announced a new marketing campaign called "Obey Your Verse". Cans of the lemon and lime flavoured soft drink has featured rap lyrics by Drake, Nas, Rakim and Notorious B.I.G. This new campaign is a throwback to a successful 1994 campaign Sprite had launched called "Obey Your Thirst" which featured the following artists A Tribe Called Quest, KRS-One, C.L. Smooth, Missy Elliott, Common,Fat Joe and more.
"Sprite recognized and respected the power of hip-hop early, and it became a part of the brand's essence decades ago," said Kimberly Paige, Vice President, Sprite Brands and Flavours, Coca-Cola North America. "By honouring and recognising great lyricism from some of the genre's biggest icons on our product packaging, we're demonstrating how Sprite continues to support hip-hop artists that remain true to themselves."
Sprite first mainstream brand to pay homage to cultural impact of hip-hop
Back in 1986, Sprite became one of the first mainstream brands to greet rappers with open arms when they spearheaded a national TV commercial featuring rapper Kurtis Blow as a rapping anchorman. Now a whole three decades later, Sprite continues to revolutionise the hip-hop industry by launching a 16 limited-edition package design that will pay homage to some of the most respected lyricists of all time.
This campaign marks the latest to come out of the "Obey Your Thirst" campaign first featured back in 1994. Over the years, campaign creative has featured hip-hop icons like A Tribe Called Quest, KRS-One, Grand Puba, Pete Rock & C.L. Smooth, Grandmaster Flash and Afrika Bambaataa, as well as contemporary greats like Drake, Nas, Missy Elliott, Common and Fat Joe.
Remember Drake's first commercial with Sprite called "Spark"? Not only was it the brand's debut in a first ever global marketing push, but it has seen a beautiful long relationship blossom between the two. This avenue has given the Canadian-born rapper a platform to unleash his creativity via other means and connect with his audience.
"Obey Your Verse" Marketing Campaign
Out-of-home and digital advertising has featured the likeness of each Sprite "Obey Your Verse" Lyrical Collection artist along with their respective packaging.
The criteria for selecting which hip-hop artists lyrics is represented on the cans, bottles and packs was simple, they had to be true to themselves,authentic through their music and advancing the culture of hip-hop.
As part of the campaign, Drake who has had a five-year relationship with the brand Sprite, has appeared in a new TV commercial which debuted last month, just in the nick of time for NBA Finals weekend.
In his "Obey Your Thirst" documentary, Drake opens up about the city that made him great, and the spirit of competition that motivates him to keep pushing forward. Drake speaks about emerging from an underdog city,Internet culture and rap's increasingly level playing field.
So far we've seen Drake, Nas, and Vince Staples profiled in Sprite's "Obey Your Thirst" documentary series, and now Fader released their final documentary clip on TDE member Isaiah Rashad. These documentaries are taking these hip-hop artists on a cathartic journey, providing information to their fans on how they've stayed true to their art, by not succumbing to the pressures of what some of the other hip-hop artistshave needed to do to become successful. The collaboration between these musicians and Sprite has been a creative one which sees both brand and artist benefit by giving back to the fan that has forever remained loyal. It's very enlightening for the musician, the fan and for Sprite. It's a journey of revelation and cleansing of the system which unleashes the creator within, and makes Sprite remain in touch with their community base.
Click to tweet
And you can see just what it means to the artists to be part of this powerful campaign "Legacy means everything to me," said Nas, a longtime Sprite partner. "When I wrote these lyrics, I never imagined my fans would someday have the opportunity to enjoy a can of Sprite and experience my art in a totally original way."
Consumers have also been able to engage in the conversation via Twitter using the hashtag #ObeyYourVerse. The inaugural Sprite "Obey your Verse" Lyrical Collection features the following lyrics:
Click to tweet
Sprite have truly understood that in order to engage their consumer and grab their attention, they needed to stand out from the crowded soft drink market. By consciously taking a firm grip of the hip-hop industry and have it become synonymous with their brand, they are giving the consumer a total brand experience. Not only have they decided to have a clear vision in their marketing concepts by incorporating hip-hop music with their brand, they have successfully evolved with the strategy. All brands and marketers can learn from the creative team down at Sprite by aligning themselves with music or even being more focal in choosing a specific genre of music and making it part of their DNA. Not only do they connect with their audience in a creative manner, they have also made music part of their brand message. Bravo Sprite!
If you found value or insight from this post, please consider sharing it on Twitter or Linkedin. Thanks for reading!
Copyright pictures property: pa-journal.com, jackthriller.com , youtube.com