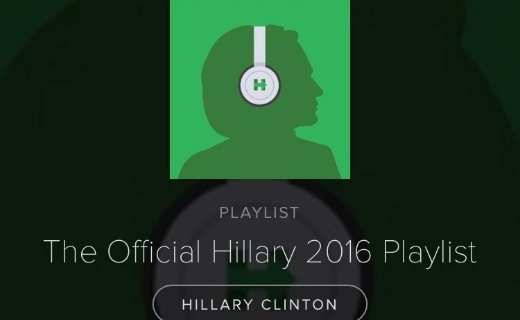 In June, Hillary Clinton released a specially curated playlist on Spotify,hoping to endear herself to younger audiences. Music on her playlist includes several girl power anthems such as Katy Perry's 'Roar' and Ariana Grande's 'Break Free', but it also features diverse songs to rev you up before a rally such as Gym Class Heroes' 'The Fighter.'
And even more recent, with the United States Women winning the World Cup in soccer, Hillary celebrated by curating a playlist specifically for the historic win. Her list was filled with victory-themed songs such as Queen's We Are The Champion's and Journey's Don't Stop Believin'.
With themes of positivity and resiliency, Hillary Clinton
is using music as part of her strategy to connect with Generation Y who has shown low voting turnout throughout the years.
2 Spotify playlists and a concert for Hillary Clinton's official political campaign
Music is driving marketing in this presidential campaign for former Secretary of State Hillary Clinton with one clear goal: to entice the young vote. Presidential hopefuls everywhere are getting down and jiggy with it; even multi-millionaire mogul Donald Trump announced his candidacy using Neil Young's 'Rockin' in the Free World. Politicians are using technologies in the digital and mobile space to connect with generation Y, who are known for their smartphone addiction.
Travie McCoy of Gym Class Heroes is thrilled that his song has made it to Hillary's 206 presidential campaign playlist. "It's a trip," McCoy told Entertainment Tonight. "You never know who's gonna react to things that you've been through or things that you're expressing, and the fact that Hillary Clinton is into my music — I'm stoked! It's awesome and I'm super flattered."
And to add to her playlists on Spotify, she decided to celebrate the American Women's World Cup win in the most engaging way, by curating a playlist filled to the brim with winning anthems. She is cleverly using music as her medium in a thought-provoking way to reach and connectwith potential voters around the country.
Still celebrating? Enjoy the ultimate playlist for champions—inspired by Team #USA: http://t.co/CoaFoju6ch pic.twitter.com/9bd2zC7lB9

— Hillary Clinton (@HillaryClinton) July 6, 2015
Using music as part of her presidential campaign was taken a step further when she invited rock band Echosmith to perform their catchy tune Cool Kids from the group's 2013 debut album, Talking Dreams, to thousands of supporters in New York City.
Though Clinton may be the first to debut her playlist in the presidential race of 2016 where she hopes to make history, by becoming the first female President of the USA, she hasn't been the first president whose had a Spotify Playlist. President Obama curated a playlist on Spotify for his re-election campaign back in 2012, which resonated with voters around the country in a favourable light.
What does music teach us about the candidate, Hillary Clinton?
Hillary Clinton's curated playlist has themes of positivity and resiliency,and has a diverse range of musicians from Marc Anthony to John Legend. Listening to Hillary's curated playlist will certainly leave you with feelings of empowerment and strength with its general 'feel good' content, which would have definitely been the brief when curating the list of songs.
Click to tweet
Music says a lot about the candidate and their personalityand what mood they are trying to reflect in this campaign. Rumour even has it that Katy Perry who is a big supporter of Clinton has already written a campaign song for her. But Hillary appears to have selected and adopted Katy Perry's song Roar as her own personal mantra!
Music is part of the social media strategy of that campaign to engage with millennials
It seems as a trend is emerging with politicians using music as part of their campaign strategy to connect to young voters. Here, at Tuned Global, we are not surprised that music is used as part of their total social media campaign which speaks to potential voters as a language to get their message across. Music is also social, and naturally brings people together and encourages conversation, it is providing Hillary's team with a platform to inspire actions.
Click to tweet
With Clinton's Social Media Director Kathy Dowd claiming 'Social Media is now ubiquitous' the #Hillary2016 Digital Strategy's goal is to continue creating new and innovative ways for people to own a piece of this campaign. Her digital campaign has also given her fans a channel to re-engage with her via many digital platforms such as Periscope, Twitter, YouTube and of course Spotify.
In the coming months leading up to the historical event where another President of the United States will be inaugurated, we would hope to see perhaps another playlist or a dedicated radio streaming station from Hillary giving us an insight to her journey on getting there. Just as her husbandformer president of the United States of America Bill Clinton, had a theme song to define him, Fleetwood Mac's "Don't Stop Thinking About Tomorrow." What Hillary needs now to continue her quest of reaching out to millennials is a song which will encapsulate's what she represents. Perhaps, Destiny's Child "Independent Woman"? or Helen Reddy's "I am woman hear me roar"? Picking a song to represent your candidacy doesn't always come with an amazing back story, but that's what she needs now moving forward, a song that will represent her as a strong, independent woman who will not be walked over by a male dominated workplace.
If you found value or insight from this post, please consider sharing it on Twitter or Linkedin. If you have questions or want to connect…well, you know how all this works.
Thanks for reading!
Copyright Pictures Property: play.spotify.com