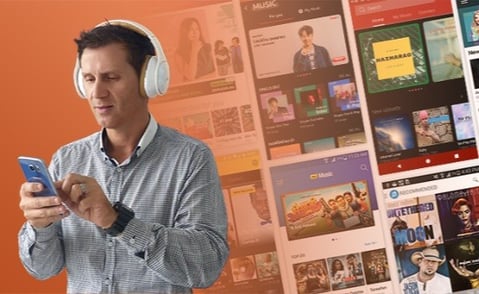 Music is an effective marketing tool - and in 2021, no one knows that better than mobile network operators. Telcos have been bundling their phone plans with music streaming service subscriptions for almost as long as the format has existed. But as they wake up to the advantages of bolting music-related content onto their existing offerings, some are even going one step further by launching their very own music streaming apps.
Music Business Worldwide have interviewed Tuned Global CRO, Spiro Arkoudis to discuss the opportunities and challenges for mobile network providers who want to enter the music game and how companies such as mJams and True Digital are doing it.

The world's current largest music streaming company Spotify signed its first major carrier deal with Telia in Sweden all the way back in 2009. Spotify CEO Daniel Ek tweeted at the time that, "This will be big!" and he wasn't wrong.

In the years since, telco x music streaming tie ups have become a common feature in the digital music space across a plethora of telcos and streamers globally, both with established players like Spotify and fledgling music services in emerging markets.

Telcos team up with music streaming companies for a number of reasons, like drawing in new subscribers, or up-selling existing customers to bundle deals with music included.

For streaming companies, the benefit of teaming up with a telco lies in being plugged into the telco's subscriber base, giving them access to potentially millions of new users the minute the partnership goes live.
While some telcos opt for an exclusive partnership with a single music service, it's not uncommon for streaming companies to ink bundle deals with multiple telcos worldwide. Some are even going one step further by launching their very own music streaming apps.
In the Pacific Islands for example, local telco Our Telekom and its partner Mobi Media (VAS company) have launched in 2018, the Mjams service which became the first domestic streaming music app in this region. Mjams was built using a white-label music streaming app from B2B streaming company Tuned Global, whose Chief Revenue Officer Spiro Arkoudis tells MBW that telcos "have recognized that music is a major passion point for consumers". He adds that telco-owned, and locally-focused, music services like Mjams can play a significant role in a market's music economy, acting as a channel for home-grown talent in the market to reach local audiences. Mjams has been able to use Tuned Globals Live Broadcasting technology to provide live concerts in market. This provides not only unique content for users but allows the Telco to build a deeper engagement with their customers - providing tangible value.
Tuned Global, which provides its B2B streaming services to a range of digital platforms, has been active in the telecom sector for around a decade. The firm powered the first telco streaming platform in Australia with AAPT and Universal Music Group 10 years ago, which was a hybrid service featuring unlimited streaming and AUS $50 of mp3 downloads.
Since then, in addition to Mjams in the Pacific Islands, Tuned Global has worked with Virgin Mobile on music reward campaigns in partnership with EMI/UMG; a music streaming app in India for Idea Vodafone Music; with True Digital Group in Thailand on the company's TrueID app.
MBW caught up with Arkoudis to ask him about the current state of the telco x music deal market, to explain why telcos are launching their own music streaming offerings, and how Tuned Global's suite of B2B music, audio and video streaming solutions can help them do so.

QUESTIONS:
---

WHAT ARE THE BENEFITS FOR A TELCO TO BUNDLE A MUSIC STREAMING SERVICE IN WITH A PHONE SUBSCRIPTION?
Primarily to gain new subscribers, up-sell existing subscribers, and retain them in order to increase their ARPU. It's a terrific marketing tool, but it also has a link back to monetization as a core business measure for the telco.
Telcos, like most companies, have a goal to engage with a user on a regular basis. This could be to up-sell users or simply to build and maintain brand affinity. They do generally recognise that music is a major passion point for people, whether it's millennials and these days, more mature and diverse audiences. They then have a platform that as streaming adoption grows, it is relevant across demographics and age groups around the world.
---

ON THE FLIP SIDE, WHAT ARE THE BENEFITS FOR A MUSIC STREAMING COMPANY TO BUNDLE THEIR SERVICE WITH A TELCO SUBSCRIPTION?
They're tapping into a new large audience and it gives them an opportunity to scale very quickly. Telcos usually have substantial marketing campaigns associated with such a deal. It really gives the streaming service great brand exposure and [can] ultimately attract new users.
There's also a monetization strategy for the streaming service. Telcos have direct billing tools and mobile credits, so the service itself could tap into a new revenue stream and a larger audience. Generally, telcos have generous marketing budgets. When they do music streaming [deals], there's potential co-marketing opportunities with the telco so it's a welcome boon for the service too, tapping into marketing funds that may not exist on their side.
And also, it's a credibility statement. If you're associated with a major telco, the [streaming service] is stamped as a credible player in the space.
---

SOME TELCOS ONLY WORK WITH ONE STREAMING SERVICE EXCLUSIVELY, WHEREAS OTHERS SIGN DEALS WITH MULTIPLE STREAMING COMPANIES. WHY IS THAT?
I'd argue the one exclusive music streaming service approach is generally market dependant, traditionally it's because generally
Most telcos will try to partner exclusively with the leading music streaming service in their market to position themselves as an early leader,
There may only be one or two key services for those markets
Most music streaming services generally offer the same catalogs with no real differentiation, hence they'll partner with the music service they perceive most popular and engaging in their market(s) based on brand perception.
The telcos who offer access to several music streaming services usually don't have a strong strategic approach linked to music but use a more tactical reward/referral based model. It is often a simple introductory offer exclusive to their clients, and it usually benefits the streaming platform more if they are good at converting these users, than the telco itself, unless they receive a referral fee.
As a comparison, the VOD/OTT streaming services market has become fragmented. You have Netflix, Amazon Prime Video, Disney+ and a plethora of homegrown OTT services in their own local markets carving out their own pieces of that particular market by exclusive content offerings.
[This] isn't common on the music services side, but perhaps a shift [will occur] on the music services side too over time, but that's quite some time away.
---

WHAT ARE THE ADVANTAGES AND DISADVANTAGES OF EXCLUSIVE TELCO AND MUSIC STREAMING SERVICE DEALS?
The advantages for a telco and streaming service under an exclusive arrangement are that for the telco, it will ideally help them acquire and retain users and sell more bundled plans, plus better [opportunities for] co-marketing, and more targeted messaging. For the music service, they get access to major marketing campaigns, increased brand awareness, gain new customers via the heavily marketed promotion and increase monetisation opportunities, that's usually via higher conversion from free trials or freemium to premium subscriptions depending on the nature of the deal structure.
The disadvantage [of an exclusive deal] is that by taking a single service approach, the telco has assumed all their customers, irrespective of age, demographic etc, are all the same. You could also argue though that given most of the leading services carrying the same content offerings across the major labels, whether International or Independent, does it really matter? Where this could be vital is the music services brand perceptions vs the competing services in the same market.
Plus, for the telco, it could be said that it doesn't help your retention in the long term. When the offer ends they may remain with the streaming service, but users might change telco provider.
These disadvantages are the reason why many telcos are trying to create their own streaming service to own the users, collect data, retain them long term and offer a different user experience targeted to their audience.
For the [music] service, it may possibly have jeopardized other potential telco deals long term given their exclusive arrangement but again you'd argue generally the cooperation of a Telco and music service in a single market is usually a one time affair.
---

WHAT ARE THE KEY DEVELOPMENTS YOU'VE NOTICED OVER THE PAST FEW YEARS REGARDING MUSIC AND TELCO PARTNERSHIPS?
Historically telcos wanted to do it themselves. When streaming was growing they saw the opportunity to develop their own [service], but then platforms like Spotify and Apple Music became very mainstream so major telcos started working with them.
The [reasons for] this include saving money and less headaches [from] licensing complexities across master audio rights and publishing rights, but recently we are seeing a new wave of demand from telcos wanting their own service. They want access to deeper and richer data and own the end to end user experience. I would also add, the bigger the mainstream music services grow, the more challenging and potentially costly it becomes to partner with them.
Add to this the various new content types growing in popularity, e.g. UGC content inclusive of music, it starts to garner interest in the merit of the Telco delivering their own unique service in the market. We are seeing this more and more in emerging and developing markets.
Some Telcos have [also] tried to do it themselves, but they don't [necessarily] have the resources to pull off their own [music streaming] interface, as they are not knowledgeable on the music tech or music licensing side. Hence, that's when our company services have been called up to guide them across technical implementation needs, licensing guidance and best practises we've acquired across multiple territory executions, from Australia, India the Southeast Asia and soon Europe and the USA in deals yet to be announced.
---

IN WHAT MARKETS ARE YOU SEEING AN INCREASE IN, OR THE MOST FREQUENCY OF TELCOS WANTING TO LAUNCH THEIR OWN SERVICES AND WHY DO YOU THINK THAT IT IS?
I would say more in emerging and developing markets or what I would call atypical countries because of their strong local culture, heavy localised emphasis, and small size, and possibly not under the radar of the major streaming services where they may not see scaling opportunities for growth. They are all interesting markets, because a lot of them have a localised approach as stated earlier. Telcos see the local culture and nuances of that market is not being catered for by some of the biggest services, with that kind of broad stroke, one-size-fits all service. Also add that in some circumstances the Telco is the dominant player in the space with a substantially large installed base of users given their local dominance, so the thought of expanding their offerings via their own music service also ensures continued brand positioning and user advocacy in their market(s) especially across both younger and mature audiences.
Other reasons include that it could also be [because of] socio-economic statuses of the people [in those markets] that means that credit card penetration is low, or they can't afford the [fees] of mainstream services. So the telco takes the path of, 'Hey, we want to do our own thing. We want to support local artists. Examples of places you're seeing it in are in markets in Africa, Eastern Europe and in Asia, especially Southeast Asia.
They want to own the audience and know that [not all] people can't pay for music, so they offer it as part of their own product and monetise it via the data collection.
---

ON THE NOTE OF SOUTHEAST ASIA, TUNED GLOBAL WORKED WITH TRUE DIGITAL GROUP IN THAILAND ON THE MUSIC SERVICE FOR ITS TELCO'S ENTERTAINMENT APP, TRUEID. TALK US THROUGH WHAT TRUE DIGITAL GROUP REQUIRED FROM THE PROJECT AND WHAT TUNED GLOBAL DELIVERED?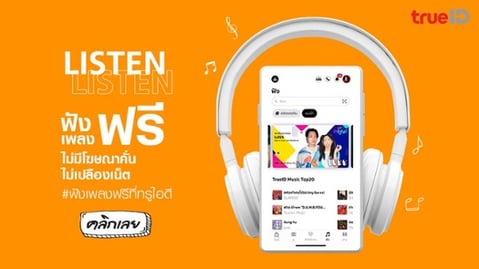 One interesting thing we've seen in these markets is the analogy of a super app. It's a heavily content-focused application with music, video, podcast, [sports], and all sorts of content offerings.
Music is a big part of the True Digital Group and traditionally, for telcos who try and do it all themselves, the idea is great at the outset, but then as the journey progresses, they realise it's an expensive, complex game.
True Digital chose to work with Tuned Global as we offered a full suite of music streaming APIs ready to use by True ID's development team, as well as the native front end code from its iOS and Android applications.
Not having to worry about how to create a music feature, but focusing on how to produce an elite user experience that impacts their core business, was the main benefit for True Digital.
As True Digital developed their streaming offer from an existing set of Streaming Service APIs with access to the front end code, they were able to fast track the project to get it to market in four months rather than a year if the music streaming capabilities had been developed from scratch.
By engaging Tuned Global to work with their existing platform, True Digital made a saving of up to 70% in comparison to if they had developed the technology independently.
This service delivered all the required features expected on a premium streaming app with impressive engagement results. Over the first three months only their Music MAU was up 10% versus the three months before enlisting Tuned Global's expertise. The time that users spent engaging with the music streaming part of the platform increased by 15% and song consumption per person was up 8%.
---

YOU ALSO WORKED ON AN APP IN INDIA FOR IDEA VODAFONE MUSIC. TELL US MORE ABOUT THIS PROJECT, IN TERMS OF THE BUILD AND ALSO THE SIGNIFICANCE OF ONE OF INDIA'S LARGEST TELCOS LAUNCHING ITS OWN MUSIC STREAMING SERVICE?

[The] music app was launched in India in 2018 by [telco] Idea, which was acquired by Vodafone during the project.
Whereas True Digital used all our API's, for Vodafone Idea, they [used] the whole ecosystem. It's a premium music streaming application, and you'd expect to find similar features on Spotify or Apple.
One of the challenges in [working on the project] is that there's there's 22 local dialects in the market. So you're also providing an application that needs to display 22 different languages.
That's something that made [the app] very unique to the market. It was [displaying] localised content per region. So the application and system had to understand location settings.
They were looking for a music technology provider to be able to quickly deliver a music streaming service which included all the main market features, while differentiating their offer from the mainstream streaming services.
Tuned Global offered a fully interactive turnkey music service. Users can play any songs, build playlists, and listen to content offline.
The app, available on Android and iOS allows simple daily, weekly or monthly subscriptions using mobile phone credit, which is important for the emerging markets. Other payment solutions requiring a credit card were also available.
---

HOW DID YOUR WORK WITH OUR TELEKOM IN THE PACIFIC ISLANDS ON THE MJAMS APP DIFFER FROM YOUR WORK WITH TRUE DIGITAL AND IDEA VODAFONE?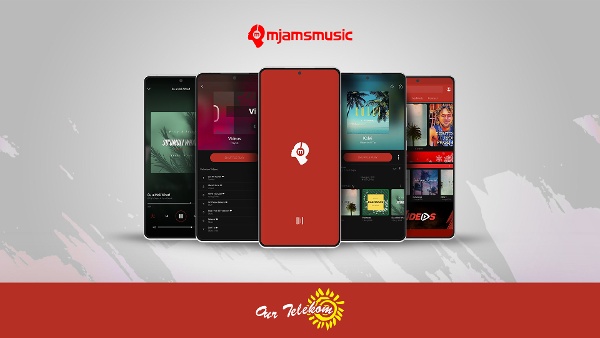 They use our whitelabel music streaming app, with a similar set of features [used by] Idea Vodafone.
What make them unique is the focus on local content to reach a niche audience of passionate music lovers and direct licensing of local Pacific artists and only Pacific artists. They are really involved in helping preserve local music and giving a unique distribution channel to local artists.
Monthly Live Concerts [are also promoted] in the app, with a regionalised approach through the Pacific Islands, with different content for different markets, for example, Solomon Islands vs Vanuatu.
They also recently announced the expansion of their music streaming app, in Papua New Guinea (PNG) through their partnership with Central Music Association (CMA) which allow them to expand their service to 20,000 new content creators in PNG under the CMA banner but more importantly utilise mJams and its framework to establish a form of music rights in the country.
Through mJams there is also a large focus on digitising legacy music from the 50-90's currently sitting in storage, with the ability to move this content online to preserve and allow listeners to enjoy the music of old.
The service Mjams and the telco Our Telekom are both benefiting from this niche approach and using this in their communication and marketing to build a closer relationship with the local population.
---

THERE IS OBVIOUSLY A SIZEABLE INVESTMENT REQUIRED FOR A TELCO TO LAUNCH ITS OWN MUSIC SERVICE. DO THE POTENTIAL RETURNS IN THE LONG TERM OUTWEIGH THE RISKS OF DOING SO?
It's a good question, because if the goal is to become the new Spotify and make money from subscriptions, that's probably not a good strategy, right? That's already known as a tough gig.
But if a telco is trying to do this in a way to impact the rest of their business, increase ARPU, retain customers or acquire new ones, strengthen brand affinity etc, then it is an absolutely incredible thing to do.
If they decide to do it internally by themselves the risks are quite big [in terms of] costs, timeline blowouts, scope creep, resourcing constraints, sunk costs, negative learning curve etc. We've actually had many instances where the Telco has ultimately raised their white flag and have come to Tuned Global to de-risk the execution or salvage the remainder of their project. We have already invested in the tech, bring onboard a tonne of music services expertise - so that leaves the Telco to focus on the marketing strategy and customer acquisition / retention strategies.
Generally I would say, the timeline, investment and technical development difficulty is always the major challenge if they want to do it by themselves. As a streaming technology provider with many years experience working with Telco's in multiple markets, we allow them to go to market quickly - a few months - with a music streaming service which includes all the main market features and iterate from there, rather than wasting a year or more developing something from scratch that might not work straight away.
---

WHAT ARE YOUR FORECASTS FOR THE CONVERGENCE OF THE TELCO AND MUSIC STREAMING MARKETS GENERALLY OVER THE COMING MONTHS AND YEARS?
Telcos are coming back to the front of the scene with streaming offers but they are trying to bring something different. Consider the pandemic impact across the world with more and more increasing their dwell time on handheld devices too consuming more content than even before in some cases.
In Asia many are exploring all-in-one entertainment apps (also called super apps) where music meets video, radio, podcast, audiobook, TV etc. In this instance, Tuned Global's API's are being used to implement core music streaming features and functionalities, so we are a prime partner for them.
[We'll also see more of] the local approach, as local brands they are able to support their local scene and be expert in their niche local catalogues, a regionalised approach and direct licensing of local artists in some niche cases
Ultimately it's a great outcome for the entire music ecosystem as it's a win for rights holders, brands and ultimately for users who have more choice and diversity in choosing their desired music service or preferred Telco provider giving them reason to stay on or move to a more desired offering via another Telco in the market.
Tuned Global helps telcos and mobile network providers launch a new streaming service in 8 weeks that includes music, podcast, video, live and more.
This interview was run and written by Murray Stassen and first published on Music Business Worldwide.