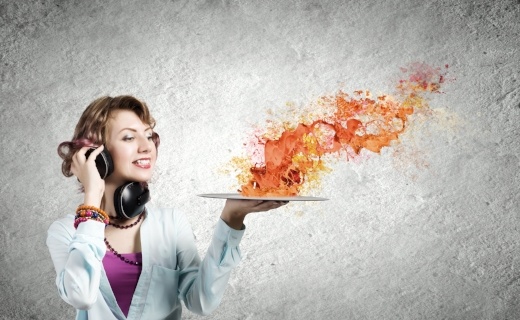 The 2016 Australian Record Industry Association (ARIA) statistics have showed that music streaming services have doubled from $23 million to $46 million, which now gives digital music the main hold of the market share, accounting for 62%. Australia has also seen the revenue for recorded music increase 3.2% globally, according the the International Federation of the Phonographic Industry. This is an impressive climb in supporting artists and the music industry overall. It is no surprise that these 5 companies have used streaming services as part of their brand experience.
1. Virgin Mobile
Virgin Mobile partnered with a music streaming company under their Big Gig bonus data offer. Postpaid Virgin Mobile customers were rewarded with 1GB of bonus data each month they listened to the mobile streaming services, which still applies until November 2016. As part of their campaign, they partnered with Reggie Watts to illustrate exactly how big the free gig of data is with a 21 hour beatbox track. Here's a snippet:
2. HP
HP introduced its own music streaming services that are free to all buyers of HP laptops and PCs from the brand. The music service, HP Lounge, is aimed at creating a better experience amongst millennials and increasing their devices as the preferred choice amongst the younger generation.
3. TripAdvisor
TripAdvisor recently partnered with a music streaming service in order to build brand affinity for users of their app. TripAdvisor customers will be able to access music stations based on specific locations to help them start their travel plans and listen to packing specific playlists, thanks to the 2-month free trial.
A8: We think that the music, food, and art of a Caribbean island really give you a feel of its culture and overall vibe. #TL_Chat

— TripAdvisor (@TripAdvisor) November 3, 2015
4. PlayStation
PlayStation have teamed with a music streaming service in order to create the best experience for their customers. The exclusive deal allows PS users to stream music while you play and control music from your phone or tablet. This effort comes as Sony defines their media capabilities more succinctly in an effort to engage more directly with consumers for the best brand experience.
5. Uber
It's no big news that Uber have been using music streaming services to enhance their brand experience. Since the union in 2014, Uber has seen their method for personalised driving experience for more than 8 million users.
Bonus: The Grammys Accept Music Streaming
Although the National Academy of Recording Arts and Scientists of America hasn't begun streaming music as part of its brand experience, they have changed the standards for accepted music for the Grammy Awards. According to Forbes, the Academy implemented a change called "applicable digital streaming services", which is defined as "paid subscriptions, full catalogue, on-demand streaming/limited download platforms that have existed as such within the United States for at least one full year as of the submission date". This change comes after Chance The Rapper's new record became the first album to make it to the top ten on the Billboard 200 - based only on streams.
With awards like this beginning to sit up and take notice of music streaming, companies are are even more encouraged to use digital music to build brand affinity for their target audience.
Music is just the beginning when you're looking to create the best brand experience for your customer. For a full guide to engaging with millennials through music, watch our video: The 5 Marketing Secrets to Engage Millennials.
If you found value or insight from this post, please consider sharing it on Twitter or Linkedin. Thanks for reading!