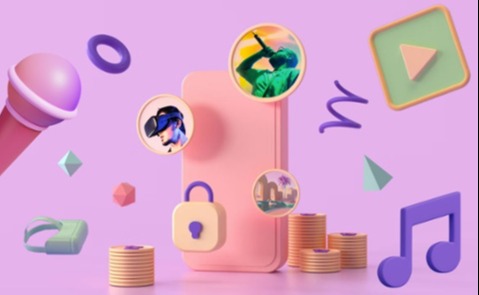 Layering music into web3 and the metaverse is a complex task with lots of moving parts. Those parts can quickly devolve into technical and legal quicksand. With those pitfalls in mind, Digital Music News published this pocket survival guide in collaboration with B2B Streaming technology provider Tuned Global.
As companies continue to dip into the metaverse, complex implementation questions are quickly surrounding the use of music. Part of the reason is simple: just like real life, listeners want their virtual abodes to feature their favorite music. The metaverse wouldn't feel 'real' without it.
But while web3 developers certainly understand tech, music infrastructure presents considerable complexity. Even the most significant metaverse or NFTs entrants aren't fully aware of the challenges associated with music integration and delivery. On top of that, early-stage metaverse adopters are a sophisticated lot, and their expectations are understandably high.
"Our first commercial music service was for a large telco, and their users were offered $50 of downloads per month plus unlimited streaming," recounted Con Raso, Tuned Global's founder and managing director. "Today. we would say. 'Huh — why bother with the downloads?'
"The reality was that people valued what they understood. Web3 is similar in that it greatly extends how music is used and consumed, and the challenge is to take people down this new path. We fully expect that web3 will be a normal part of people's day, but we also know that we are in a very early stage of discovery and execution. It's exciting times."
Given the early stage of web3, there's also the problem of a moving target. As the web3 beast grows, conventional music integration strategies face the prospect of obsoleteness. Music access and consumption face dramatic evolution–especially in new-fangled web3 iterations. Even the legal terrain is likely to shift substantially with potentially hairy disputes.
But licensing represents only the tip of a jagged and gigantic music industry iceberg.
Accurately executing music layering within metaverse and NFT projects requires specialized technology for ingestion, storage, and distribution — along with critical services such as playlisting, reporting, and metadata management.

Every successful web3 installation will bring something distinctive to the virtual table. Music executions will be tailored specifically for metaverse, NFT, and gaming environments (or combinations thereof).
Tuned Global has been working with multiple web3 startups/companies dipping into the metaverse, all of whom share a common desire: to deliver entirely new user experiences and music industry business models.
Bringing those visions to reality, however, is complicated.
Perhaps the only constant in the early-stage metaverse is that every project is different. Background music in a game, NFT video, or virtual metaverse venue can be customized to individual users and broader audiences. That includes everything from a jazz club in the metaverse or a jukebox in a room, where users choose music and invite their friends.

Other projects are natively tied to music. Web3 concerts for various metaverse projects (for example, Decentraland with Deadmau5, Paris Hilton & 3LAU; Somnium Space with its Take Me to Your Burn Festival; and Sandbox with Snoop Dogg) have already proven their worth.
On the streaming front, web3-focused DSPs like Audius and Opus could make inroads, while 'web2' incumbents like Spotify are pushing into virtual platforms like Roblox.

Music-specific NFT marketplaces such as Catalog, Sound.xyz, Async Music, and 3LAU's curated marketplace, Royal, also come to mind.
Beyond that, music is likely to power the next evolution of online fitness classes, whether conducted by a human or its AI replacement.
So how do metaverse creators ensure that they're integrating music into their digital worlds in a way that provides an enhanced listener experience and checks off the requisite boxes? And how do they guarantee that the content is copyright protected, licensed, and personalized?
---
Here's a checklist of the most significant considerations behind music integration in the metaverse.
1. The major challenge for web3 projects is typically licensing and rights management.
There are specific licenses in play for on-demand, sync, and reproduction in any environment, including metaverse installations. But even in more mature arenas like streaming and live concerts, challenges still surround licensing, reporting, and content delivery. Other concerns include the navigation of copyright payouts, content ingestion, metadata management.
Perhaps the first step is to ensure buy-in from all IP owners. For starters, content (both the recording and underlying publishing) has to be paid for and adequately secured. That includes all licensing use cases and territories where a metaverse installation exists.
Web3 projects — NFT, metaverse, or otherwise — typically struggle to obtain (or even understand) music rights from record labels and publishers. In the best-case scenarios, the process is simply time-consuming and complex, though more typically, considerable sums of money are required to secure proper clearances.
In situations involving unsigned artists, or artists that control all of their rights, the licensing task is easier to navigate. However, building a catalog of credible content requires substantial licensing costs and extensive negotiations.
Properly engaging multiple rights holders is a Herculean task — most web3 developers have no idea where to start or whom to contact. Moreover, revenue distribution standards for all rights holders aren't yet correctly established within metaverse creations, and there's currently no framework for web3. Publishers, for example, may demand the same payouts as recording owners on NFTs, even though this isn't the norm for traditional streaming services.
Publishing is often the most complex and potential litigious area. Often, there are multiple songwriters for a single song. Some of those writers may have actual representation by a publisher, which poses a serious question: Does the artist own all the rights?
The result: prepare for some extended negotiations with IP owners that will probably demand a considerable chunk of revenues (or even equity) for their participation.
Rights holders aren't willing to take licensing risks on early-stage web3 projects. Substantial compensation might alleviate some of their fears, so Web3 companies must anticipate demands for large upfront payments — regardless of actual plays. Be aware that major labels and publishers may also demand a percentage share of the web3 company.
"We are currently navigating licensing deals for clients that want to provide items like NFTs at scale, which involves deep discussions with rights holders and publishing organizations. It's still difficult to create processes at scale, but I think there is a willingness to work through these items.", Con Raso MD and Founder of Tuned GLobal explained.
2. Tracking, reporting, and related data are significant considerations for music rights owners.
Once a licensing deal is in place, factors like content ingestion, storage, playback, hosting, metadata, and reporting enter the picture. A deal's a deal — but that doesn't simplify the upcoming implementation challenges.
Additionally, in many agreements involving music for NFTs or the metaverse, licensors don't compensate for how often a track is played. So labels want more — they want to know what people are searching for and what content is most popular. These potential expectations require serious consideration among stakeholders and specialized tech management to track and report.
Labels might suggest a list of backend music providers to web3 developers, and having that partner in place before implementation will accelerate a project while also managing budget expectations.
Companies cannot afford to disregard this step. Suitable technology is critical for managing licensing, reporting, content delivery, navigation of rights holders, content ingestion, content tracking, metadata, and scaling music delivery. It is an expectation from rights owners.
Also, a note of caution: not reporting (or misreporting) NFT secondary sales can be legally dangerous. Anything that misses or misrepresents sales, even unintentionally, can lead to litigation entanglement.
3. Metaverse music installations must engage users with highly sophisticated personalization.
Web3 provides the opportunity for technology to deliver entirely new user experiences and music industry business models, but music personalization is a task for which developers typically lack experience. Companies like Tuned Global and their partner Musiio, have been refining personalization with patented technology. These standards are now expertly injected into metaverse and NFT plays.
From the outset, each metaverse project needs a coherent music strategy to engage its users. That means music tailored to individual users and the broader web3 demographic.
"Music has proven to be one of the most effective mediums to engage humanity," Raso said. "This is no different in web3. Each metaverse project needs a coherent music strategy to engage its users."
4. A significant web3 opportunity exists around interoperability.
Transporting valuable digital music assets between metaverse experiences and web2 interfaces is necessary. More traditional app-based experiences tap into a broader market. The result is a web3 bridge, though this is a two-way street. Users typically want to wander between web2 and web3 interfaces, and developers can combine the two. NFTs can sit alongside traditionally-licensed music, and traditional playlists can exist in the metaverse, which requires the licensing framework to support both worlds.
"Tuned Global is about to launch a solution that allows NFTs to exist alongside other songs in streaming services, delivering a similar experience for users," Raso added.
5. NFTs and music web3 in general require serious backend technology
Each NFT is identified uniquely on the blockchain. But music, images, or movie assets are stored elsewhere on the web. Accordingly, when using these NFTs within an end-user solution, the original location specified in the NFT may not be high-performance or secure. If you are building a highly scalable product, you may need to be able to support robust distribution and security.
6. Integrating the usage of tokens and virtual currency for music access is a big plus.
The existence of a fully functioning virtual economy that allows for the purchase of music access, as well as the ability to be compensated in digital value, can generate significant revenue. That could defray licensing costs while creating revenue opportunities for artists and IP owners.

But not everyone loves crypto and web3 currency. Do participants — including artists, rights owners, and other stakeholders — prefer fiat USD, for example? These decisions are critical and should be made well in advance.

"What about end-users? We believe there must be an easy path for non-web3 natives to access web3 services. An onboarding that they understand, including credit cards or similar and a transparent wallet," Raso noted.
Metaverse companies that plan to implement a music layer within their projects should consider: do I have these bases covered?
For Tuned Global, stepping into the metaverse has primarily been an extension of the company's existing competencies. Similar to conventional projects, the company offers end-to-end music solutions that focus on creating and integrating the technical infrastructure needed to layer music within the metaverse.
This checklist was written by Paul Resnikoff and first published on Digital Music News.