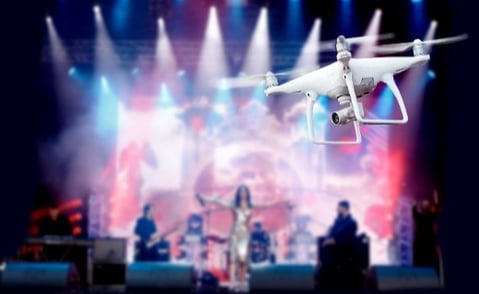 The drone industry has grown exponentially in the past few months, with the market size projected to be worth $63.6 billion in the next four years. This growth is expected to occur because of its increased usage in agriculture, construction, mining, telecommunications, law enforcement, and, more recently, music entertainment. More specifically, drones are being utilized in a lot of music events, as seen during One Republic and SZA concerts earlier this year.
In fact, below are some of the ways drones are signifying the future of music events.
Stunning concert visuals
Drones are used to amplify the concert experience. They are programmed to escalate on-site visuals with stunning light shows, choreographed drone fleet movements, and documentation in a 360-degree format. Take Celine Dion's 2019 concert for example, one of the last held before the pandemic. At the show, fans were treated to a live drone show, just as the singer belted out her iconic hit My Heart Will Go On. And even though the drones only appeared in one song, they were the most talked-about part of the show.
Under pandemic restrictions, drones enhanced the virtual concert performance. EDC's 25th anniversary celebration Light Up Las Vegas last November, which used over 600 drones to display light shows with different choreographed movements each day. Rapper Travis Scott even used a QR code formed by drones in mid-air during the Rolling Loud Festival last July — the first feat of its kind in history.
These incredible technological feats are made possible by the drones' high-speed routing. Indeed, the advanced PCBs (printed circuit boards) utilize nodes that power the drones' intuitive light and sensor features. Consequently, they can rearrange themselves in reference to the artists' movements and avoid collision with fellow drones.


Capturing aerial live video and images
Aside from light shows, drones can be equipped with cameras, granting them the opportunity to fly and take bird's eye view shots of the music event. This is what Korean sensation BTS did while they were on their US tour.
Drone companies like DJI and Matrice also allow videographers to capture moving performance shots for live streaming purposes. This is facilitated by the drone's first-person view (FPV) live video technology, which uses a multi-band wireless transmitter that connects to an on-ground display source. This source can be a computer, tablet, or smartphone.

FPV technology is arguably the technology that helps remote concertgoers most feel like they're attending music events in-person, as it allows them to watch concerts on any mobile device from anywhere in the world. In fact, many concerts today, like SZA's aforementioned Ethereal in Bloom concert, use drones in this manner to enhance the live video concert experience.

Facilitating venues safety and health requirements
Finally, drones have also been used in various security plans, particularly in high-profile music festivals and other events with gigantic crowds. Drones use sensors and artificial intelligence capable of detecting violent movements and suspicious activities, like fighting or stampeding, from overhead. And because they can fly autonomously, they can also avoid obstacles and detect problems without being near the attendees.

Drones can also help event organizers comply with health and safety protocols. For example, drones equipped with EPA-approved disinfectant can now sanitize entire venues before and after music events. The devices can also be used to immediately spot medical emergencies when they happen, so emergency teams can quickly respond to safety concerns without having to constantly patrol the venue.

***
Evidently, drones have disrupted various industries by providing automated yet reliable service. Its applications in the live music scene are also vast, marking a new innovative era.