17 May, 2021
We recently signed an agreement with pioneering fantasy record label app FanLabel, and are now providing platform services including music ingestion, delivery and rights holder royalty reporting. Using our content delivery and ingestion platform, they now benefit from instant catalogue updates on new releases, takedowns and re-deliveries.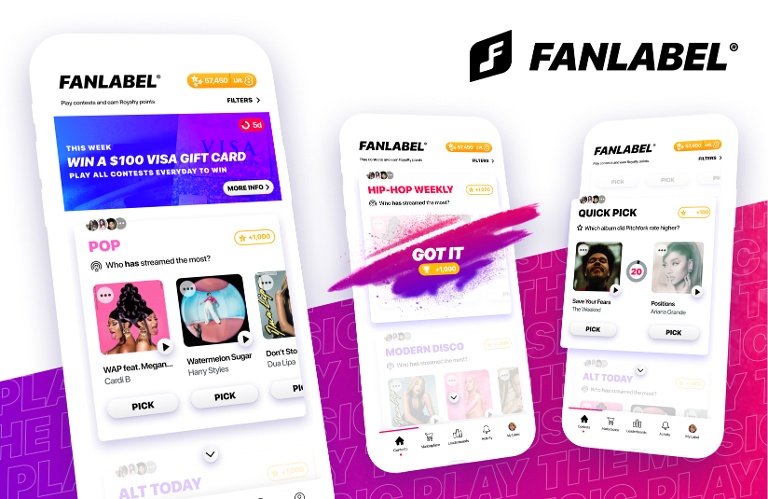 ---
Tuned Global managing ingestion and content delivery from major and indie labels
Millions of tracks with enriched metadata being processed via Tuned Global's automated content delivery system
Concurrently with Tuned Global's backend revamp, FanLabel experiencing a growth rate of 20-30%
---
Tuned Global has facilitated FanLabel's migration from their previous backend technology provider – in 10 days – whilst delivering access to millions of tracks from participating labels, including Warner Music Group, Universal Music Group and Sony Music Entertainment with enriched metadata and territorial rights. Tuned Global will also report stream usage on a monthly basis to record labels, publishers, MLC and PROs on FanLabel's behalf.
Using its automated content delivery and ingestion system, INTAGA, Tuned Global provides its clients with instant catalogue updates on new releases, takedowns and re-deliveries. "Timely releases are critical in our industry, as it directly impacts our user retention and engagement. While we had some challenges in the past, Tuned Global has been meeting expected timelines which give us more confidence moving forward", said Jeff Sloan, Founder and CEO of FanLabel.
The music gamification start-up, whose stakeholders include all three majors, invites its users to become a music mogul and grow a successful fantasy record label by identifying the next hit songs. The service enables fans to discover new music and achieve a deeper connection with their existing favourite artists. Con Raso CEO Tuned Global added, "We love the concept behind FanLabel, how they entertain fans and support established and emerging artist promotion in an innovative way. Their requirements were different from the usual streaming services we assist, but with the flexibility of our music APIs we were able to meet their expectations out-of-the-box."
Following the recent launch of V5.0, the FanLabel app now features quicker gameplay and a range of new challenges and contests. Concurrently with the Tuned Global revamp, FanLabel has experienced a growth rate of 20-30%, in addition to improved retention rates as well as an increase in downloads, registrations, engagements.

Jeff Sloan, Founder and CEO of FanLabel added, "In the short time we have been working with Tuned Global, we have found them to be an invaluable partner. Their quality and service level is amazing, they were highly cost-effective for us as a start-up and the technology really works. All the important metrics of registrations, engagements and downloads continue heading in the right direction and moving forward, we look forward to substantial scale and growth with them."
Want to know more about Tuned Global's Music Ingestion, Content Delivery and Reporting Services? Drop us a line and he will be in touch with you shortly.