19 Mar, 2021
In our mission of supported niche and local music streaming services, we have been happy to support the Chilean music downloads store, 'PortalDisc' as it moves into streaming. Using our white label music and audio streaming platform they were able to launch their new service in 3 months.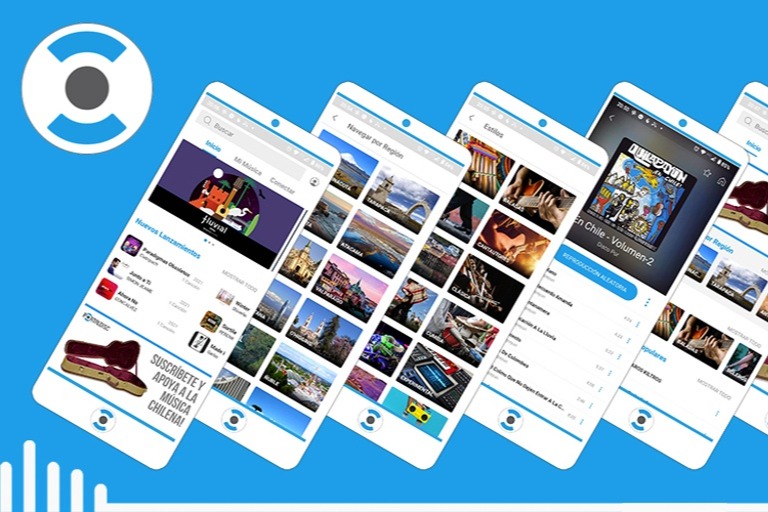 ---
Offers a fully localised user experience
Built, delivered and launched using Tuned Global's turnkey branded solution
---
Tuned Global, the leading B2B music streaming technology specialist, and PortalDisc, the largest music download platform in Chile, have launched the first 100% Chilean music streaming service.

The app offers users a fully localised experience; which Tuned Global achieved by using custom music metadata to divide the content into regions and Chilean music genres. With over 130,000 Chilean songs from 300 national labels and more than 7,000 independent artists, it covers the full range of the country's musical styles, geographical regions and historical eras. "We offer a hyper-localised and hyper-targeted music streaming service for Chilean music lovers and local artists, which a mass international streaming service can't do" said Sebastian Milos, Founder and Director of PortalDisc.

The app was built and launched in a very short time frame using Tuned Global's turnkey music streaming solution which allows PortalDisc to manage their users, subscriptions and content independently and to report to rights holders.
Available on Apple and Google Play, PortalDisc offers a free version, enabling 50 different tracks to be streamed per month, and a premium version with unlimited access. The Chilean company also provides a portfolio of services for local artists including marketing, radio promotion and international distribution.

IFPI reports that streaming commands a 72.8% market share of recorded music revenues in Chile.



"We couldn't have done it so quickly without Tuned Global", said Milos. "Their suite of features such as live, video or podcast provide an exciting roadmap for the future of our streaming service. We look forward to offering a new great alternative way for artists, labels and other distributors in the Chilean market."

Con Raso, Managing Director of Tuned Global said, "The streaming world is changing quickly and users increasingly use more than one service. We have believed in and supported niche and local music streaming services, such as PortalDisc in Chile, for many years now."
"These services do not compete with mainstream services, on the contrary, they complement them by focusing on a specific type of content as experts in their area. This focus allows them to engage with superfans and support local music industries and artists."
Want to know more about our Branded Music Streaming App? Drop us a line and he will be in touch with you shortly.