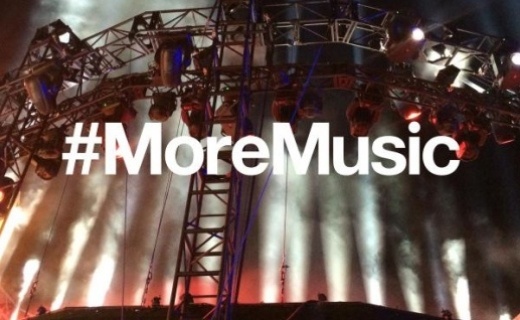 In order to capture the attention of the music lover, Target's strategy to reveal an entire four-minute commercial for the group 'Imagine Dragons' during a Grammys commercial was clever marketing, and here's why. Firstly, a commercial is aired with a band performing live on a rooftop in Las Vegas, if you had blinked you would have been forgiven in thinking you were still watching the Grammys. The transition from music show to commercial was seamless and aesthetically consistent with the topic... Music. The campaign also taps into the digital side with the hashtag #MoreMusic and serves to promote a special exclusive edition of the new Imagine Dragons Smoke + Mirrors album available only at Target from February 17, 2015.
Giving fans what they're craving in a unique experience of #MoreMusic
Target's marketing campaign made history when they decided to do something completely out of the box with a first ever live Grammys ad. Imagine Dragons performed live for 300 very lucky fans who were invited to see the spectacle. Target promising to give fans #MoreMusic with four 30-seconds ad (a four-minute performance in total) by the rock band instead of the usual eight 30-second ad time slots, this was a performance made in music heaven.
Vegas' Fremont Street was the setting for this live extravaganza which incorporated LED jewellery on fans, chopper footage, 22 cameras and a 360-degree screen. The boundaries of technology were certainly pushed and it is probably why people are still talking about that performance today.
The campaign sees the album "Smoke + Mirrors" by Imagine Dragons to be sold exclusively to Target customers only and features four bonus tracks. By generating original content as Target has done in providing fans with a live concert and driving social media engagement as well as offering the consumer something exclusive, these are all elements of this very successful and well thought out campaign.
Safe to say this live @ImagineDragons show is the most fun commercial break ever! #MoreMusic #GRAMMYs pic.twitter.com/H652NLn56N

— Target (@Target) February 9, 2015
The goal of this live commercial was to give fans watching the Grammys more of what they want, which is of course music. With the hashtag #MoreMusic being the driver for this social media campaign, platforms such as SnapChat and Twitter and Facebook were all used to raise awareness for this campaign and bring it to life.
Click to tweet
#MoreMusic received over a billion impressions according to William White, Target's Vice President of Marketing and was the number four organic trend in the world.
Using social media & Internet sensations to make the campaign go viral
Just like Beats used internet sensation Karen X. Cheng in their #SoloSelfie campaign to reach more audiences, Target have also added another clever layer to this campaign, with the use of popular internet personality Justine Ezarik and her sister Jenna along with Vine celebrity, Lele Pons. These internet sensations were invited to the exclusive event and contributed to the campaign with their plethora of followers on social media.
Justine Ezarik is better known as iJustine and communicates directly with her millions of viewers on justice.tv. She came to notoriety back in 2007 for receiving a 300-page iPhone bill in the first month of using it. She has over 1.6 million followers on Twitter, 700k followers on Instagram and over 1 million followers on Facebook. So it's no wonder that Target are utilising as many social media personalities for their popularity and their ability to reach a broad audience to shine a light on the #MoreMusic campaign. Equally as popular on all platforms of social media is her sister Jenna Ezarik who is a famous video blogger, and showcases her travels and love of animals.
Lele Pons at only the age of 18 has an enormous following of 6.7 million followers for her six-second video loops on the video sharing service Vine.
Try to find @ijustine and me during the @Imaginedragons performance on TV !! #Grammys 👯💃 pic.twitter.com/ot9LvXbPiT

— LelePons (@lelepons) February 9, 2015
The Ezarik sisters and Lele Pons were also actively involved in the promotion leading up to the concert by tweeting their fans and arousing interest in what the brand Target were doing. These collaborations between social media personalities who have created communities with their deluge of fans allows the brand "Target" to keep the core product of the campaign as the main focus for the consumer. It drives awareness and creates social connections which in turn creates a buzz for the #MoreMusic advert.
Fun @Imaginedragons show with @SouthwestAir! #DestinationDragons pic.twitter.com/wR8Hl9FzNX

— Justine Ezarik (@ijustine) February 21, 2015
Keeping the buzz going
Post Grammys the buzz needs to keep going and what better way to do that then involving audience interaction. Target are encouraging followers to tweet 'unlock' more content and are running specific paid search ads in order to ensure that interest holds momentum with the concert in Vegas.
Target have also strategically been creating conversation on their social media channels by teasing fans with content that can only be seen/heard or purchased at Target. The hashtag #MoreMusic received a whopping billion impressions!! That has to be global gold in terms of social media success. By giving fans a channel to re-engage with the core product 'the CD' even after the concert has finished is what makes for a successful creative marketing campaign.
Only days before Target joined SnapChat, they were instrumental in using this popular social media channel to drive awareness for the #MoreMusic campaign. They released sneak peeks of behind the scene footage of the amazing spectacular extravaganza which was going to be aired live during the Grammys show.
Click to tweet
Digital promotion being key for this strategy and leveraging the artists and in this case the music, has so far been successful for Target. It was risky (costing a lot of money) and logistically complicated for all those who created this campaign but nonetheless a successful one. The second album for Imagine Dragons, Smoke + Mirrors since airing this campaign during the Grammys ad has earned it's first number 1 album on Billboard's charts.
Love what you heard from @ImagineDragons? Preorder now & get #MoreMusic when it drops Feb 17. http://t.co/0VWleyAe1e pic.twitter.com/2qFxVh1oBR

— Target (@Target) February 9, 2015
When concert pictures come out blurry 📷 @BrentRivera @ijustine #moremusic @Target (Vine by @Cody) https://t.co/LNdhKGCToP

— denise dang (@dang_denise_) February 27, 2015
When Target designed this music marketing strategy it may have seemed an obvious choice to give consumers exactly what they wanted.... #MoreMusic. Creating a buzz by using high-profile personalities and offering the consumer something exclusive that only can be purchased at Target stores makes these music fans connect to the product on an emotional level. Music naturally brings people together and leveraging social media by engaging with their fans was a way to ignite the campaign and keeping the momentum going.
It begs the question will this successful partnership between brand and band which uses traditional methods of media, social media, and the worlds of music, television and marketing be imitated?. For Target probably not as they like the element of surprise and being innovators rather than imitators, but it can strike a chord with other brands in doing something unique and outlandish should ones marketing departments dollars allow.
Copyright Pictures Property: musicmarketingmoney.com, Twitter, YouTube