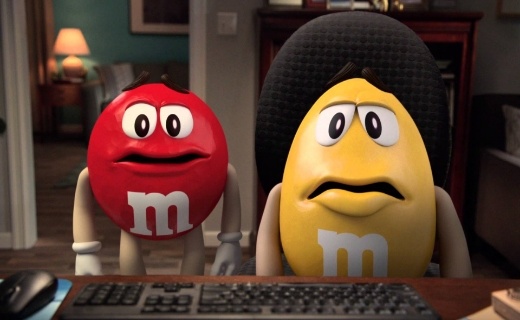 M&M, the best selling candy which claims to melt in your mouth and not in your hand, is celebrating 75 years with its biggest marketing campaign yet, "Celebrate with M". The candy brand has been going strong since 1941, and this year, it's kicking the celebration up a notch with an amazing marketing campaign which promises to be filled with colorful fun. M&M's giving back to their fans with this campaign that aims to capture millennials and Generation Z consumers. To celebrate its 75th anniversary, the chocolate brand is launching a year-long marketing bash that will feature star-studded events, product innovation, music collaborations, and unexpected partnerships meant to cement the brand in pop culture history. The hero of the campaign is a spectacular modern twist on an old 1972 classic song, The Candyman, all in a bid to engage millennials.
The Candy Man: A modern remake on a classic to appeal to a young generation
M&M has kicked off this impressive campaign with the release of "Candyman" a modern remake of Sammy Davis Jr.'s "The Candy Man" song (1972). Soulful riffs with a wistful affection for a period in the past come together in this new modern version, which features Grammy award-winning artist Zedd and Grammy-nominated musician Aloe Blacc . The single is available for download in iTunes and streaming on Spotify.
"M&M'S collaboration with Aloe Blacc and Zedd was not about creating a soundtrack for a new television spot. Rather, it's about inspiring a new generation of fans to sing along and celebrate with us," says de Pablos-Barbier. "It was also our ambition to be 'digital first' as we were able to create an incredible amount of engaging content through this partnership that will enable us to be culturally relevant with millennials and Gen Z fans."
The song was originally written for the film 'Willy Wonka and the Chocolate Factory', but once Sammy Davis, Jr. got his hands on the song and put his jazzy spin on it, the track went on to become the sole number one hit of his entire illustrious career. Though millions have enjoyed this beautiful song, it has faded in the memory of people. By giving it a new lease of life, it spawns a new generation of music fans who are now exposed to this whimsical song. The upcycle of this classic song gives it a resurgence and association with the M&M brand, which will evoke emotions in the younger consumers. It's a clever way to inspire rich storytelling tugging at the emotional heartstrings.
>> Read our article British department store John Lewis' ad creates emotive storytelling through music <<
"It was amazing, because actually I wanted to work with Aloe on stuff for myself anyway," Zedd commented while sitting next to his collaborator. "I personally didn't know the song, the original 'The Candy Man', so I listened to it and I was like, 'Aloe's the perfect voice for that!' I thought that was an amazing challenge to take on. Everything lined up so perfectly that there was, literally no reason not to do it."
In what is an epic marketing campaign for this iconic brand, consumers will be encouraged to use #CelebratewithM for birthday surprises, exclusive access to one-of-a-kind experiences, the ability to help determine the next flavor to hit store shelves, and more. It will indeed be a round of colorful launches with the brand releasing the following: retro packaging, inspired by the brand's 75 year heritage and history; Flavor Vote where consumer votes determine the the next limited edition M&M flavour; Red Nose Day which raises awareness and money for the Red Nose Day Fund to uplift children out of poverty; Operation Gratitude which honors the military and donating to packages throughout 2016; and lastly, Be@rBrick will commemorate the 75 years collaboration with Japanese lifestyle brand Be@rBrick, which will feature their iconic collectible characters as well as apparel and accessories that all inspired by M&M's heritage.
Click to tweet
"For 75 years, our fans have made M&M's the iconic and beloved chocolate brand it is today," says Berta de Pablos-Barbier, v.p., marketing, Mars Chocolate North America. "We aren't satisfied with solely looking back on our history as America's favorite chocolate candies. We are looking to the next 75 years of innovation and transformation to engage, entice and excite consumers of today and tomorrow."
Millennials are turning to music like a new religion
8 out of 10 millennials feel the most effective way to connect with them is through music, a new study by Momentum Worldwide has revealed. 90% of millennials claim that music gives them a way to escape the mundane chores of life and shows the importance of having music tied into daily routines.
Music has the power to boost self-esteem and to increase the desire to work. Music has been known to drive productivity and is prevalent in many work environments, knowing the benefits a good tune can bring. The study shows that nearly every millennial respondent needs music to focus (86%), and 80% need music to study or work.The research also revealed that 80% of millennials claim music makes them feel more confident, especially when placed in new and unfamiliar situations, music is what they can establish a relationship with to make those feelings of uncertainty establish comfort zones.
A staggering 81% have also admitted that music triggers positive memories whilst other findings illustrate that 76% of millennials need music whilst travelling and exploring, whether it be on a road trip or travelling across town.
With all this evidence, brands and marketers should start thinking about incorporating music into their marketing strategy, just as M&M has done in this compelling marketing campaign. Clearly, the candy brand sees success in using music to engage a younger generation. Music with its power to evoke strong emotions can drive strong product brand affinity with consumers. This campaign has also gone one step further in pairing the right song with the right campaign. With the theme song "The Candy Man", this campaign will not go unnoticed with over 1.3 million views on YouTube, No. 14 ranking on Billboard's Hot Dance / Electronic Songs chart and 15,000 downloads sold and 964,000 U.S. streams in the week ending March 3, according to Nielsen Music. In its goal to break through the digital platform, M&M made the strategic choice of using music as an engaging content, and has successfully won the ears and hearts of younger generation.
If you found value or insight from this post, please consider sharing it on Twitter or Linkedin. Thanks for reading!
Copyright Pictures Property: Youtube.com