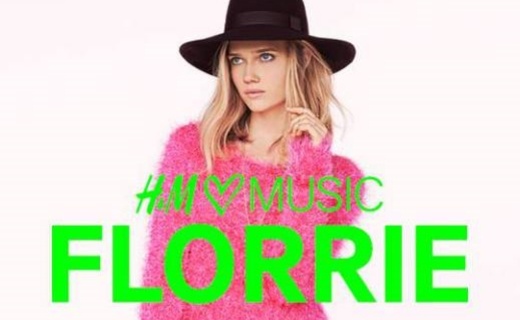 With fashion and music closely linked in the Swedish retailer's new marketing campaigns, both "H&M Loves Music" and "H&M Loves Coachella" showcase the latest in pop star sensations and a very first co-branded music festival fashion line. The fashion brand's latest muse is singer-songwriter and all round IT girl, Florrie. Both campaigns are utilising new platforms and ensuring that the worlds of music and fashion intertwine by engaging in a wider audience. Known for its fast-fashion clothing for men and women, music is used as an integral extension of their brand voice.
H&M plays a winning hand of emotional branding by connecting Fashion & Music lovers
This latest collaboration with rising star Florrie shows how brands are realising the importance of creating meaningful connections with consumers by engaging them with the power of music. In this campaign 'H&M Loves Music', they are affiliating themselves with up and comers of the music industry. Florrie is their newest model to showcase her own line of fashion wear, completely inspired by the singer-songwriter.
There is also a H&M Summer Playlist on Spotify which combines musical talents such as Ebony Bones, Pet Conspiracy and WordySoulspeak and of course, Florrie. With a music mixer feature, H&M are inviting the consumers to participate by creating and submitting their own playlists with an exclusive offer to win a pair of Skull Candy headphones. Way to go H&M for this engaging offer!
H&M's clever marketing strategy is engaging and rewarding consumers with music, making the initiative an 'emotional branding'. In addition, by discovering new artists, fans can evangelise new bands before the recording industry makes them into a huge star. Music not only tugs at the heartstrings, it gives both brand and artist a new platform to reach a new audience. This campaign capitalised on social media, with the use of online streaming, as well as popular hashtags and Instagram.
Click to tweet
Florrie reaches a wide audience through fashion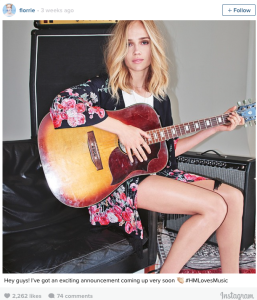 British singer-songwriter and drummer Florrie is on the verge of becoming the new Taylor Swift, even though she started her plight in the music world almost five years ago. This new collaboration may see her become a household name by using fashion as a her new stage to captivate a wide audience who shares her fashion philosophy. Her style is self-dubbed as a mixture of "kind of sixties, organic feel merged with modern pop beats and electronics".
She is used by H&M as an ambassador with a boho-inspired fashion line catered for festival goers and lovers of the free world. The festival-ready collection to feature in stores shortly will include an exclusive release of 'Too Young To Remember'. This is a clever cross-branding initiative that intertwines fashion and music.
In an interview for Fashionista, she explained this partnerhsip, "H&M's a brand that I've been shopping at since I was about 13 — I'd peer in the windows in my school days — and they love supporting new artists and introducing their fans to up-and-coming talent. It's a worldwide campaign that enables a wider audience to discover my music, so it seems like a perfect fit, especially since I do love the collection."
H&M uses festivals in order to enlist their consumer and raise awareness

As an extension of this campaign, H&M have partnered up with Coachella music festival in the first co-branded range, as an official clothing sponsor. "H&M Loves Coachella" festival collection can be purchased over the two weekend event for a cool and comfortable look whilst listening to your favourite bands. This is their sixth-year sponsoring the music festival in the California with their presence at the musical event becoming stronger and stronger over the years.
Click to tweet
H&M uses festivals in order to enlist their consumer and raise awareness for their brand. This strategy is confirmed by the Nielsen music report released a week ago. Research shows that "76% of Festival attendees report feeling more favourable towards brands that sponsor a tour or concert and 51% of all consumers feel this way."
Click to tweet
Results
We noticed the strong presence on social media of the #HMLovesMusic which got over than 185.000 impressions last month across Facebook, Twitter and Instagram.
Over 16,000 new jobs have been created by the group, which is a telling sign that H&M have had a great financial year. It is reported that sales have increased by 15% in local currencies in December 2014, compared to the same month in 2013. The company is on track to increasing the expansion of their store openings by 10-15 percent a year.
This is a good story of how music can be a part of a fashion brand's marketing strategy. Music elicits new emotions in consumers, and in return encourages brand affinity. With a fun and interactive marketing campaign in conjunction with being a major sponsor of music festival Coachella, this campaign is proving that music combined with fashion has powerful effects on consumers.
What do you think of H&M Music Loves Campaign? Is using music as part of your marketing strategy something you can foresee doing?
Copyright pictures property: Facebook.com, Youtube.com, thefashionspot.com, Talkmen.com, complex.com