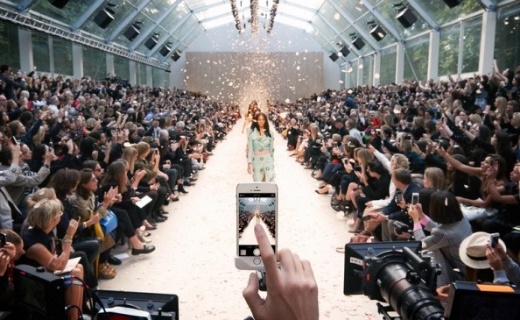 Luxury fashion house Burberry are using music to connect with their customers. A brand which is draped in tradition is branching out and telling their story in a creative way all because of one man's vision of bringing his love of music and fashion together. Music is permeating everything that Burberry are doing from the virtual to the physical.
In the words of Christopher Bailey "We try to make sure that the music always has a personal resonance. We also often talk about the craft of music in the same way that we might cut and sew a trench coat – somebody has made that instrument and now somebody is actually using that instrument to play something".
Burberry are leading the way for others to follow, from their innovative campaigns to their live fashion shows. Burberry's music platform is also devoted to helping emerging musical talents with the development of Burberry Acoustics.
The man behind the music strategy: Christopher Bailey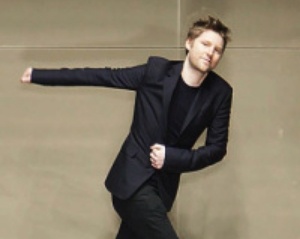 Chief Creative Officer Christopher Bailey's love of music and the importance he feels is placed on it, plays an integral part of the consumers whole brand experience. He arrived at Burberry in 2001, and since his arrival he has been on a mission to intertwine both music and fashion into one world. Bailey has described music as something that's 'emotional', 'authentic', 'emotive','organic' and 'it affects the spirit of everything'. He recounts the instructions he once gave to Tom Odell who performed at last years Burberry show "I said this is a fashion show, and you've got, you know, girls walking up and down, but I want people to feel the music – I want them to have that feeling where the hairs on the back of your neck stand up. Because that's how I feel when I listen to music."
Why are Burberry using Music to connect with their Customer?
Burberry like to be inclusive and not exclusive and they feel by using music from the runway to their stores the consumer will feel welcome and not feel inferior to the product. They believe that the whole Burberry experience does not always need to be about money or price, and it doesn't have to be about buying something, it's about a positive vibe and a connection they want you to have with their clothes. Burberry was established in 1856 and although they are ensuring that history remains relevant, i.e. their signature trench coat, they are using another platform to engage that traditional trench coat with the younger professional consumer by using a fun and innovative way in music. The integration of music, art and design must all be rolled into one to create a mood and to strategically position the brand for both high-end and ready-to-wear clientele by connecting on a emotional level that only music seems to do. This is not perhaps a conventional route for a fashion design company, but it seems to be successful for Burberry, and they're showing other brands to think outside the square by using music as a platform. Even though the economy has been a stagnant one, they are undoubtedly on the right track, by appealing to a younger and more established demographic by taking on a more authentic approach to marketing in a creative direction.
Burberry brings London to Shanghai with a night of live performance, music and fashion
To mark the opening of a flagship store, Burberry's fourth in the city and its largest in Asia, a catwalk was staged to "bring London to Shanghai." The 1500 guests were taken on an immersive journey through the Burberry worlds of Britishness, heritage, music and fashion and the brand's story unfolded in a series of emotive, musical scenes, featuring the Burberry family of musicians, models and dancers, blurring the physical distance between London and Shanghai with digital technology. The entire production was accompanied by live performances from British musicians George Ezra, Ed Harcourt, Gary Powell and Paloma Faith. "I wanted it to be joyous and emotive, to combine dance and technology and illusion to create a celebration of all things British," said Bailey.
The focus of Burberry's commercial message for the year is the trench coat wore by the troupes of dancers and the model Cara Delevingne for the finale, when she was flying flying over the packed audience of Shanghai's fashion industry VIP's. This classic belted coats in honey or black and was certainly the main attraction at the catwalk show.
Burberry showcases live talent at their fashion shows
An important feature to the Burberry live fashion shows is the inclusion of young British musicians performing whilst a new collection is revealed down the runway. The specially arranged runway tracks are all available for download on iTunes.com/Burberry, evolving the brand's Runway Made to Order service and creating a dedicated home for Burberry music on iTunes.
At the Autumn/Winter 2014 collection the audience was treated to stunning live performances by Paloma Faith, Ed Harcourt and Rhodes to around 1500 guests. In an interview after the live performance, Paloma was asked "How did the transition of performing at the show come about?" and she replied "Christopher really likes my music he told me and he asked me to do it. I just said 'yes'. He's so so so nice and so kind and a really sensitive soul so I think he likes emotional, emotive music".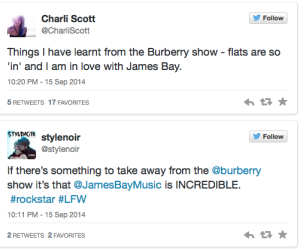 In September this year Burberry launched Spring/Summer 2015 collection named 'The Birds and The Bees' and as the show drew to a close, the curtains unveiled a live performance by British singer songwriter James Bay. This is not the first encounter James Bay has had with Burberry, he has also sang exclusively for the Burberry Acoustic Youtube page. The inclusion of live music at the Burberry shows is a hit with the audience, judging by these tweets..
Burberry Acoustic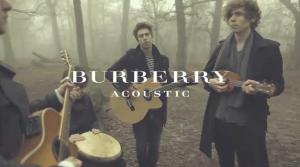 Burberry's passion for music is what has inspired Burberry Acoustic, a project that showcases young british bands Burberry believes has talent. Burberry are running acoustics alongside content on their clothes collections, they use this campaign to engage consumers and attract customer discussion. Consumers can watch videos of bands such as Southern, Keane and Rae Morris performing acoustic songs and wearing clothes from the Burberry collection. WaveMetrix social media monitoring displays how the consumer is thanking Burberry for sharing the music and providing them with new artists to listen to and also gives the fashion house a positive buzz on their amazing fashion collections.
Collaboration of Fashion & Music
Burberry also have their own Official You Tube channel & having taken their love of music to a committed level even employing their own full-time music team. The collaboration between musician and fashion is a win win for both. The musician is exposed to a large audience and in turn hopes to sell music and tickets to live shows and be globally recognised via another platform, fashion, which showcases the artist. Something we don't often hear about is also how Burberry's music team are matching artists with the right management and record labels.
Is Burberry's strategy paying off?
Burberry's whole music strategy is one that is being mimicked by many other fashion houses now and is seen as a stepping stone as to what can be achieved by mixing music with fashion to engage the consumer. Live-streamed catwalk shows, online communities as well as viral social media campaigns and a 'click to buy' button which has been developed with Twitter, have all been instrumental in giving this fashion house a much needed face lift. So is their music strategy paying off? Since Bailey's arrival back in 2001 they have had somewhat of a comeback which has given this fashion house a resurrection which was so needed.The label was tired and compromised. Today it is one of the world's top five luxury brands, with annual revenue of more than £2bn.
In the end if your still daydreaming about owning one of Burberry's signature trench coats, then in the meantime just be mesmerised in the creative ambience that Burberry are successfully achieving with their catwalk shows, their amazing campaigns and their music agenda. Yes the music... Because after all in the words of Madonna "music makes the people come together."
Burberry have seized a fantastic marketing opportunity by evoking emotions with the power of music. It is a clever strategy which has had some thoughtful planning on working towards retaining and acquiring customers.
What do you think? Is Burberry's love of music a clever platform to engage with their customer? Have they made you think about using music to raise your brand awareness?
Copyright pictures property: Feature.fm, Stylecartel,com, cnet.com, butterboom.com