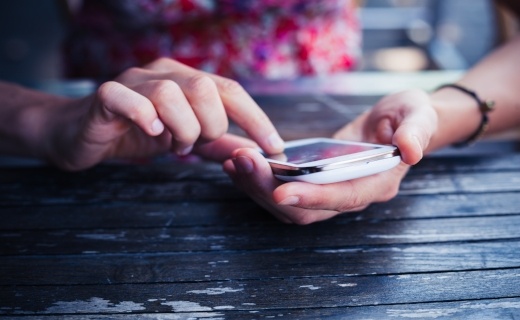 Effective customer engagement is driven by five key strategies, which can easily be applied to mobile marketing. When you combine the two, you get a potent mix of loyal customers and a strong brand. Summed up perfectly by Brian Solis, Principle Analyst at research company, Altimeter Group; "Every consumer, practically, has a mobile phone. Many of them are on social media. Everyone is using apps and has access to the Internet. We live in a real-time world that is quickly evolving into an on-demand economy".
So let's take a look at the five most effective customer engagement strategies for mobile marketing and the companies that are already using them and seeing the benefits:
1. Provide real-time benefits
Nivea's sun protection campaign focused on giving parents the ability to monitor their child's movements in real-time. Take a look at their ad.
Nivea has perfectly highlighted and provided an answer to a major customer pain point by using real-time technology. While brands have used QR codes in the past, Nivea is creative in its approach by making consumers interact with its print ad using a peelable bracelet. This bluetooth-enabled wearable is a good execution of how brands can leverage location-based technology.
2. Social media
With nearly 9,000 Snaps every second according to a recent Newscred survey, McDonalds saw the rising popularity of Snapchat and began sharing their own stories, with the help of stars like LeBron James. Alongside Snapchat, the burger company used Twitter to promote their Snapchat in the weeks leading up to the release of their new Bacon Clubhouse burgers. The campaign saw thousands of new Snapchat followers within an hour of their Twitter promotion.
You snap? We will soon. Add us for a tasty surprise. @Snapchat username: mcdonalds pic.twitter.com/mNtLhmEpsV

— McDonald's (@McDonalds) February 22, 2014
3. Simplified customer experiences
It has to be said that ANZ have done a good job of taking an already simplified customer experience and making it even easier. Teaming up with Apple Pay, ANZ are now offering pay-wave capabilities from mobile phones. This initiative resonates with the countless people who have left wallets and purses at home by mistake, something that just about everyone has had to endure at some stage.
4. Data analysis
By analysing data from your campaigns, your products and your website, you will see what is and isn't working so that you can manage your customer's experience in order to provide them with the best level of service. If your data shows that desktop views to your website are higher than mobile, you'd want to see why. The reason being that mobile users are quickly replacing desktop users. It could be that your website isn't mobile friendly and is causing bad customer experience.
These days, a mobile app that offers engaging entertainment content, like music, is a good way to gather customer data without being intrusive to your customers. Data analysis provides you with information on customers who have bought certain items or utilised certain services, giving you the ability to send targeted offers, text messages and notifications. In using this data, your brand is able to build buyer personas and target more specifically (according to gender, preferences or location) for a higher conversion rate.
5. Customer feedback
Customer feedback is potentially the most important free "service" that your company could ever receive. It opens your company up to the possibility for improvement and exposes an opportunity to step up and work to keep those customers loyal. What other way will your customers reach out to you than on social media? In the case of Telstra, they received plenty of opportunities via Twitter when they had multiple outages over the course of 2016. The situation even affected third party users, who also went to Twitter to share their disappointment.
Damn you #telstraoutage went all the way to @myer for their one day sale and their eftpos is down 😒

— Stacey Roberts (@StaceyRobertsAU) June 30, 2016
Having the ability to be reached at the moment when a customer experience is going sour, or even when it's going well, gives your company the power to change a situation for the most effective customer engagement platform.
In this mobile-first generation, understanding how to use successful mobile marketing is key to increase customer engagement . Although this is only a taste of the most effective customer engagement strategies, they do provide an insight into how major corporations run their marketing. For more ways to use mobile marketing for your brand, download our guide.
If you found value or insight from this post, please consider sharing it on Twitter or Linkedin. Thanks for reading!